Bär and I coined this term "lavish lunch" to commemorate the rare milestones in our miserable lives. It's been a long time but we have two this month.Yeah! *Jersey Shore style fist pump!*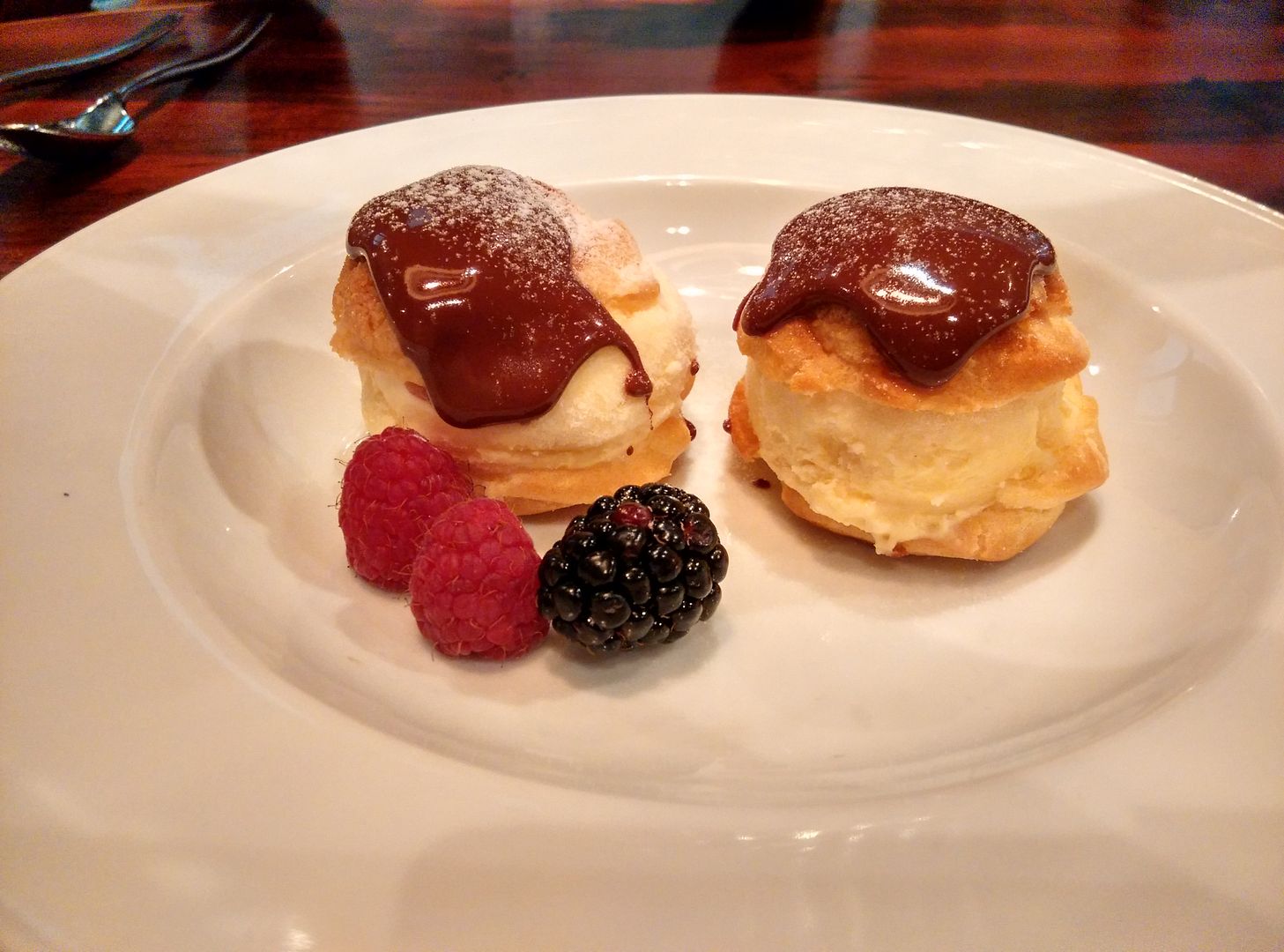 Brain Freeze worthy!
We started off with Bedrock Bar & Grill, which I read about in Some like it Haute. If someone mentions it 5 times in a blog, it must be a definite 5-star. So I suggested that we try out its set lunch menu for our first celebration. I decided to make reservations just in case, which was a good idea, because even on a Monday afternoon, the restaurant was soon decently filled (at a glance, > 70-80% tables occupied, considering the price, it was a testimony to its quality).
We had the following options under the set lunch menu:
set lunch menu
Anyone who reads this blog often *fingers crossed* (hope there are some of you out there), will know that Bär has some self-admittedly lousy luck when it comes to ordering from any menu, e.g. the semi-cooked fish at Alkaff Mansion. It also didn't help that he avoids certain foods like I do (though in my case, I gorge on those I can eat -> that's why I am fat) which limits the items he can consume.
I cheekily suggested that he ought to take the Lobster Bisque because the brandy in the soup would intoxicate him enough into a benevolent mood when he met his clients later. Instead he asked the obliging waiter (James) to check if he could change the soup to Smoked Tomato soup on the ala carte menu, while still ordering his main and dessert from the set lunch menu.
The waiter came back and confirmed that the chef was agreeable to the change, which of course put us in an even better frame of mood to enjoy ourselves. Really the excellent service contributed a huge part in our enjoyment. Again, if anyone reads this blog often, they'd know I am the kind who will not pull punches when it comes to either praising/bashing a restaurant.
ok only
We ordered drinks, I tried their signature iced tea (was a miss), and Bär, a critus mocktail (also a miss). Truly the drinks were not the stars of the show, but they served their purpose of quenching our thirst.
We were served toasted pita bread, which came warm to the table with an entire roasted clove of garlic (in olive oil) and a round disc of butter. The garlic was ambrosia to our eclectic palates, and we soon demolished the entire clove. Nonetheless vampires needed not be afraid, because the garlic tasted sweet and mellow without a single bit of that soul-destroying sharpness.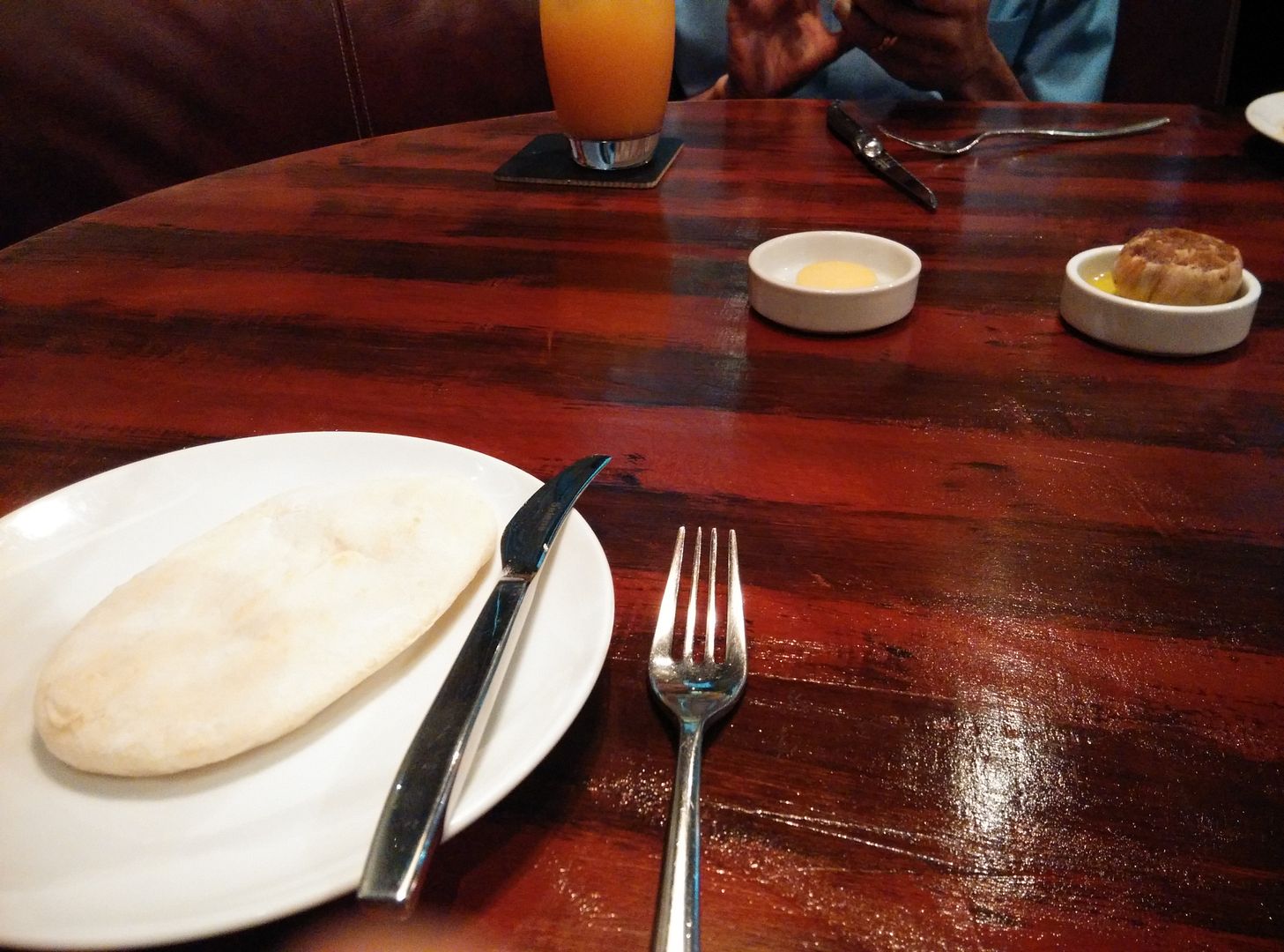 Fluffy and warm little pita bread pockets
I think we enjoyed it too much, that was why the attentive staff offered us seconds of the bread (which came this time with a lovely golden brown toasted skin) and another sacrificial garlic. Bär commented that we must look ravenous. On hindsight, they might have realized that we had many vampires to kill back at Arbeit. Oh delicious pita bread, how I wish I could cut myself into bits and stuffed myself into your comfy shell. A further testimony to how good the bread was, Bär couldn't bring himself to finish his main, but he continued to stuff his mouth with the remaining hunk of bread.
Shit, this is becoming an ode to the pita bread, so I better move on.
Like I mentioned earlier, Bär changed his starter to Smoked Tomato soup with a little dollop of Basil Mascarpone, as explained by James. As the food started arriving, I started regretting not bringing my camera instead of using my pathetic phone camera. If only I could immortalize Bär's rapture as he slowly appreciated the soup. He offered me a sip (ok, he knew I would continue staring at him until he let me), and I could taste the smoky essence in the strained liquid.
Fishy gummy bears
I had smoked salmon (I had to hit my Omega 3 quota), and it had a uniquely chewy texture like salty gummy bears. I only encountered this kind of toothsome quality once at a Japanese restaurant. Usually the smoked salmon I am served is flaky and soft.
Giant chicken thighs!
When Bär's chicken arrived, we were flabbergasted. That was A LOT of chicken on the plate. After Bär took the heap apart, I was bemused that it comprised of two thighs and chunks of turnip and beetroot. The chicken's juices ran clear, and contrasted delightfully against the crispy skin. Hmmm...
I had a really hard time deciding between the various steak dishes (I quickly eliminated the burger - too much carbo), minute wagyu, petit tender or steak with fries. In the end I chose the wagyu. My bovine eye candy was delivered on a hot plate (ok, it wasn't really that sizzling hot kind) with little julienned fingerling potatoes and caramelized onions hidden underneath. The only complaint I have is that I wished that the restaurant served a little bit of greens with the dish. I felt like a roly poly cavewoman as I heartlessly carved into my sinful steak. The unctous marbled fat in the steak melted in my mouth and warmed the cockles in my heart. *Swoon*
Make love on a plate
But the p
ièce de résistance for me was truly the scrumptious brandied berry and almond tart. Warm, and crumbly with that little dollop of creme fraiche melting on the tart, it was a lovely touch to end the meal. It was so yummy that
Bär was envious and wished he ordered that instead. Then again his profiteroles were two beautiful frozen nuggets of solid cream. Told him to wait for the damn things to defrost, lest he get brain freeze, but he insisted on eating them. Tsk Tsk.
In a nutshell,
Bedrock Bar & Grill
96 Somerset Road, #01-05 Pan Pacific Serviced Suites Orchard, Singapore 238163