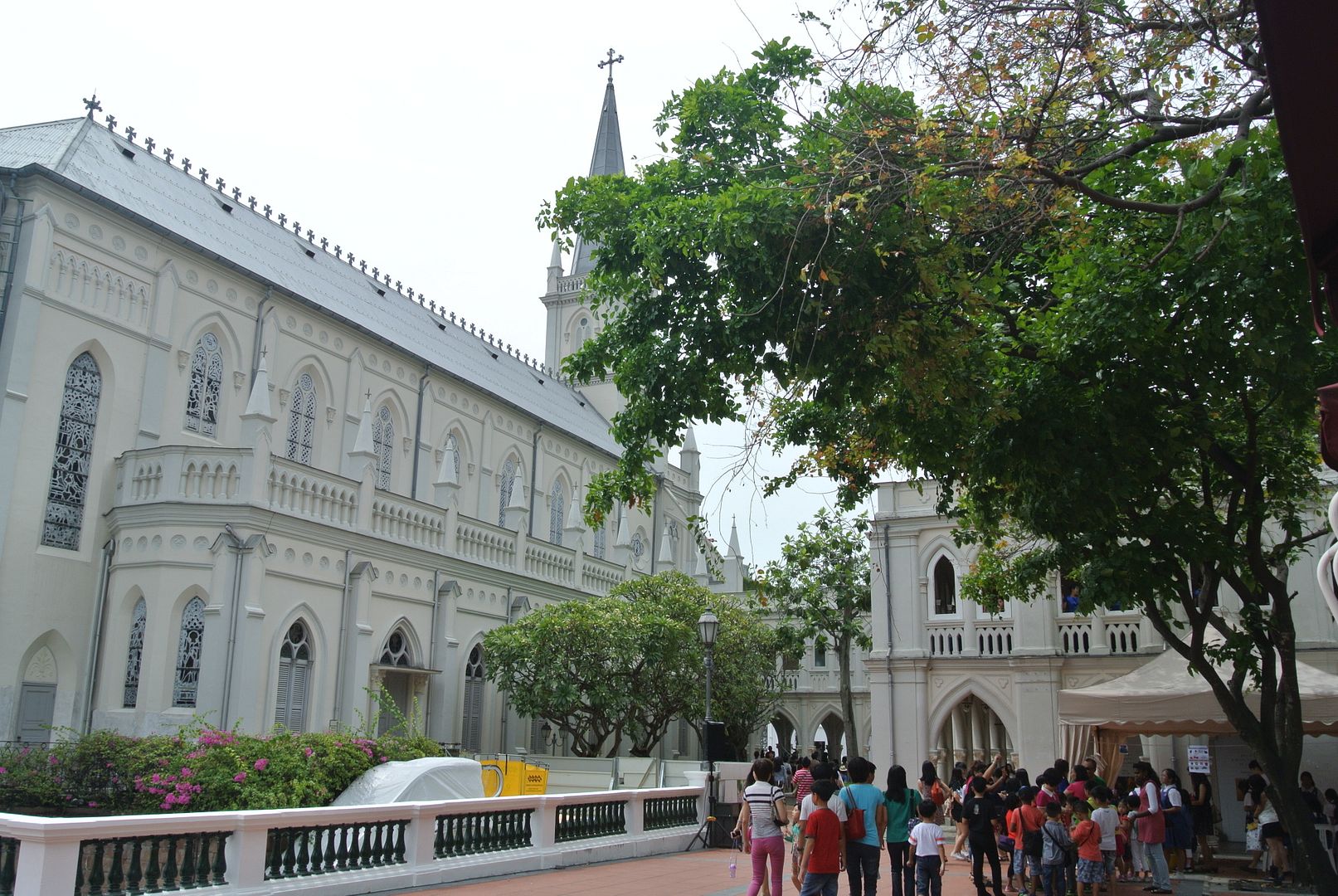 CHIJmes, formerly convent, now houses retail businesses and high end eateries
This year IJ celebrated its 160th with a MUCH smaller scale bazaar (contrast this with the one held at CHIJmes in 2004 with all the IJs), a Brunch, two art performance, the IJ link (where the new and old girls held hands around CHIJmes *did not take part, not sure if they made up enough girls) and the gala dinner.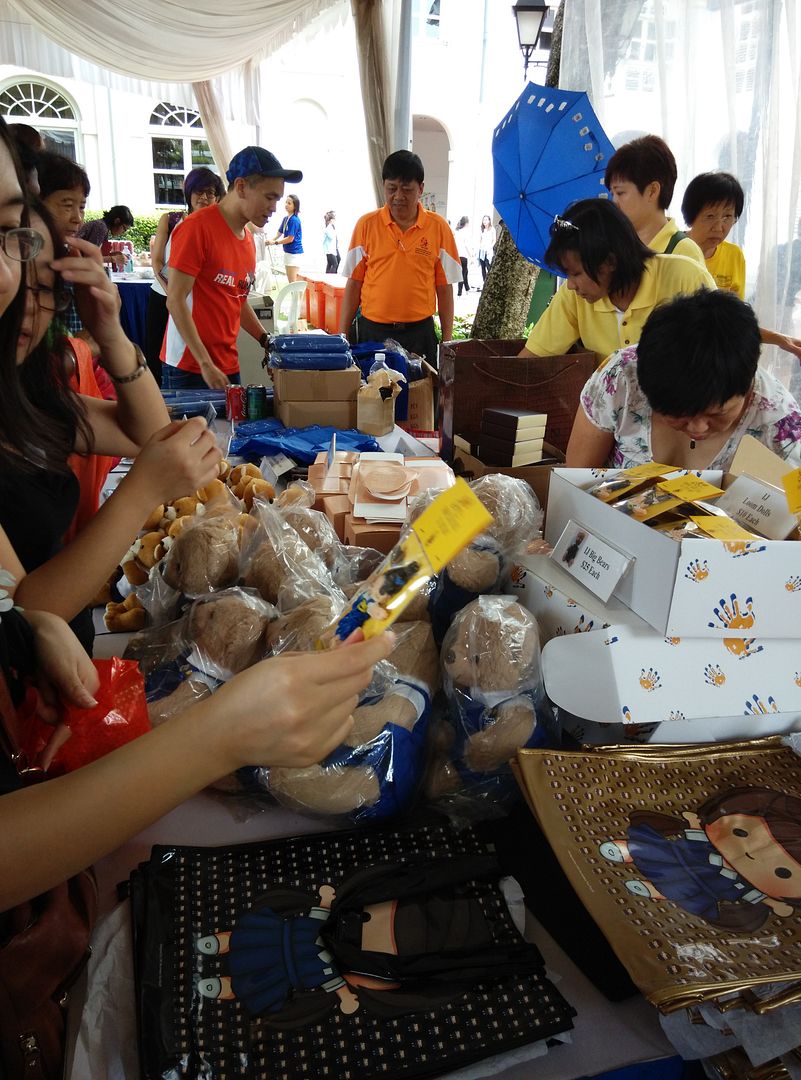 Alumni stall
I wanted to watch the performance so arranged with Mdm Bear to watch it with me after Ms Bear vetoed watching it. I was quite annoyed that Mdm Bear was 1 hour late, though Operation Tact rendered me unable to display my displeasure (it also helped that my pain could be used as a means to explain my grimacing). Thankfully Ms Bear was more magnanimous than me and didn't mind having to wait for Mdm Bear as long as we grabbed something to eat. Then while we were having lunch back at Raffles City (where we met Mdm Bear), Mdm Bear explained that the school didn't receive her cheque so she was of a mind to skip the art performance (think my fuck face really showed up at that point. I have been told that I have a terrible poker face). Ms Bear also explained to her that it would cost S$30 to cancel her S$20 cheque, so that was how Mdm Bear agreed to go to the event to check on the status of her cheque and lucky me got to watch the sold out performance *yeah!*.
this is Miss Bear's. I am helping her buy while she's overseas. Mine has a yellow badge because I have one with red badge already. Ms Bear helped to change the bear because the earlier bear had a twisted nose. This one now smirks knowingly, but we tried our best! :D
So while waiting for Mdm Bear, Ms Bear and I checked out the bazaar. We immediately went for the alumni stall where Mdm Bear and I each bought a bear (S$25) wearing the IJ uniform. As usual, modesty is ensured with its matching bloomers (I looked under the pinafore *lol*). I thought the bear didn't look as expensive as the one Miss Bear and I bought 10 years ago at CHIJmes, but this one is certainly cuter.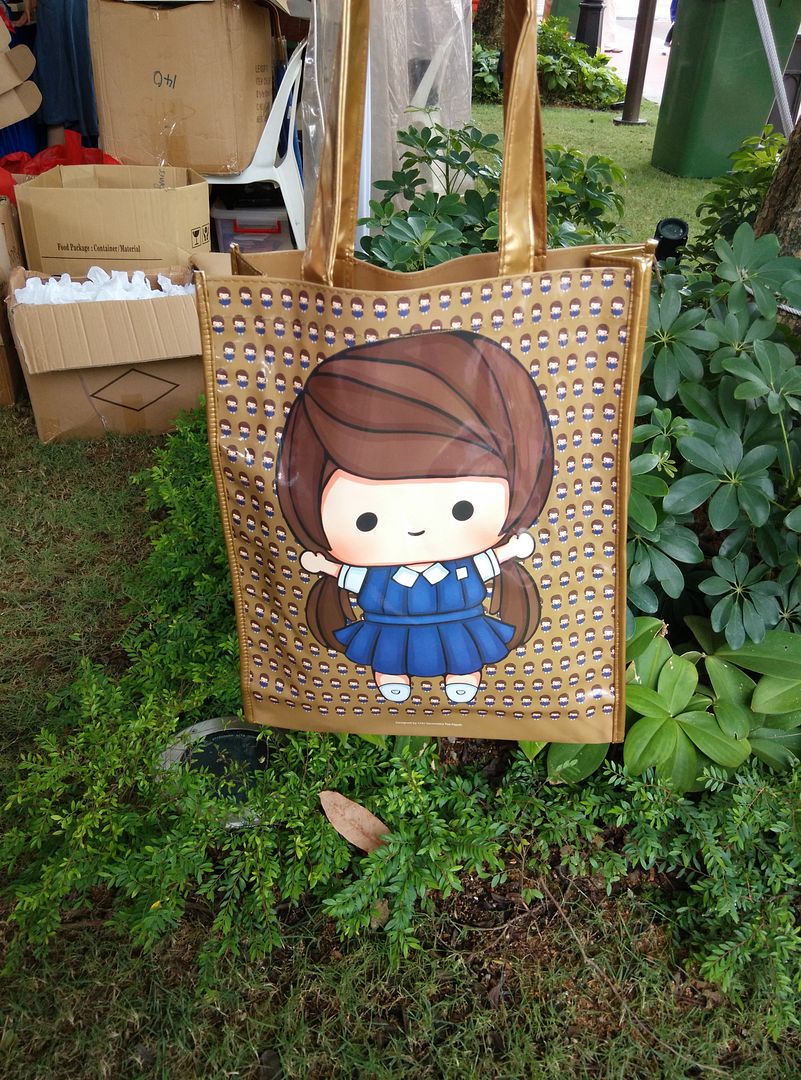 The "spots" are smaller versions of the same little girl!
I was also massively tempted by the customized school bag (S$12), which came in black and gold colors. Ms Bear was right, gold was nicer. I agreed with her aesthetic after spending the entire art performance debating whether I ought to buy it. Admittedly, I had withdrawn S$140 in case I wanted to buy alot of memorabilia, but there wasn't much, other than this really dubious black curved wang-looking thing that Ms Bear whispered "looks like a tiny dildo" from where we were standing at the back of the stall. Walking up to the stall, we realized it was a tiny wooden figurine of Mother Mary and the infant Jesus. OMG, we ARE horrible people.
Other than the alumni stall, there was a stall selling pre-loved books, prayer accessories, cupcakes and macaroons (ex IJ girl of 2001 and her friendly mommy running the stall together, shout out to SUPPORT her entrepreneurial endeavor!)
Art corner
The bigger tent holding the rest of stalls
Alumni practicing outside before their performance
Performing at the bazaar
The IJ bazaar