Decided to enjoy the perks of the exchange rate by asking Mutter and Siyi to visit JB one day last week. I initially wanted to take Montag off but because something cropped up at work (as it always did), we went in on Dienstag instead, which turned out to be a win-win because Siyi could go that day. Mutter brought along her friend N, from her Bukit Timah trekking group. Even though they were all at least 60+, I spent Dienstag chasing these three ladies (though I'd have to shamelessly congratulate myself on having better stamina nowadays).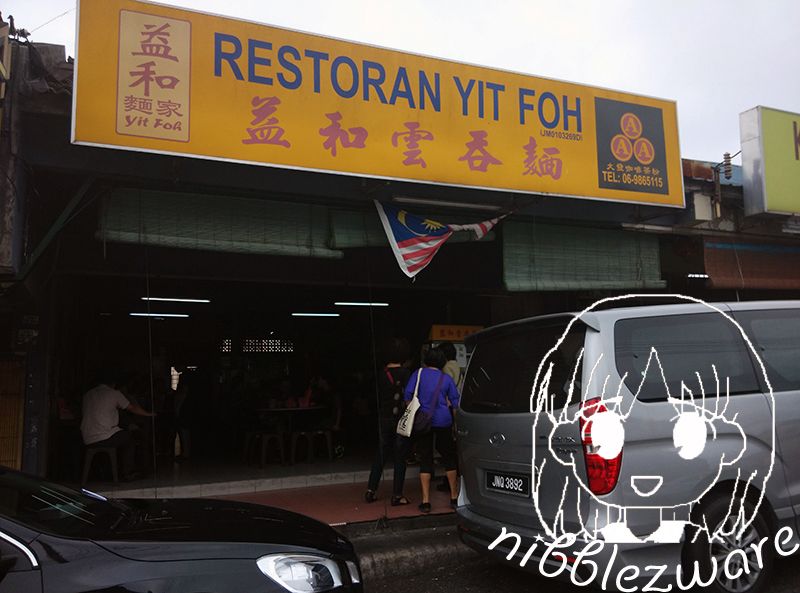 Before we went, I decided to locate some famous eateries on my google map. At first I had some problems with the GPS at home, so I decided to do screenshots of the map instead. That was how we ended up using static map images for finding 益和云吞面.
It is located at Jalan Harimau, near KSL city. So we took S1 from the Causeway Bus interchange to KSL. Getting off at the hotel bay, I walked over to ask the security guard where was Jalan Harimau. He suggested that we cut through the hotel to get there faster, which we did, only to discover that there was no exit on the other side. So having now discounted his advice, we walked out of the hotel and asked around.
Turned out Jalan Harimau is a super long windy road that goes up and down the hill that KSL is standing on. Suffice to say we walked a super long distance from the hotel bay down the hill before we found the other intersection meeting Jalan Harimau, where we met two men on bikes. They told us to walk along the road to find the restaurant (which was near the 4D shop, they said), as they realized that it was pointless to tell us to walk back up the same way we came then turn left.
So walking up the road, we discovered the security guard was 80% right after all. 益和 was super near KSL, and we ought to have either cut through KSL or walk around the hotel to get there. Luckily the ladies were in fitter shape than me and were pretty tolerant of my booboo.There were multiple 4D shops on that same row of shophouses though.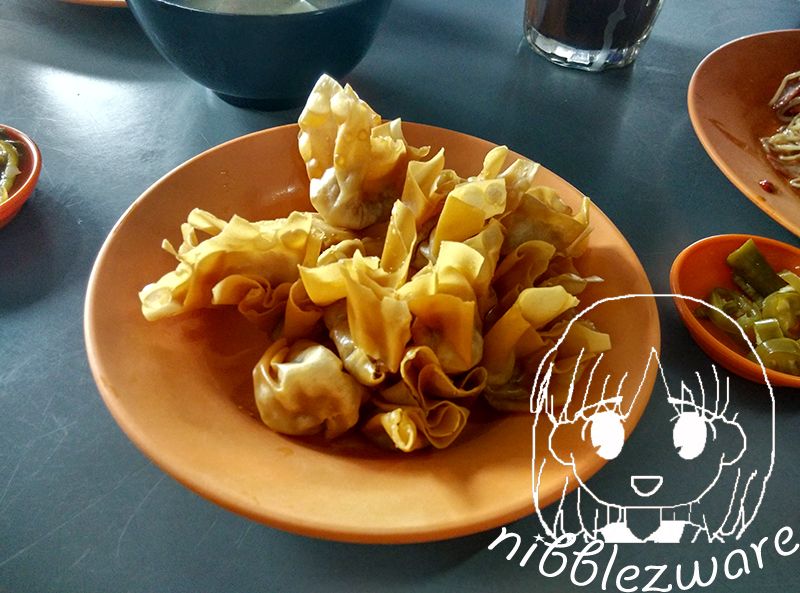 The restaurant seemed to be made up entirely of that one stall, where the cook stood over a great flame at the threshold of the shop, tossing noodles into whirling hot water, letting the lovely aromas beckon hungry customers in. It was obviously a family establishment with the two children playing at the counter.
Being the only person who didn't have breakfast, I ordered fried wantons. Wantons are not sluts in South East Asian context, they are dumplings, little nuggets of marinated pork wrapped in flour skins before boiling or frying to awesome mouthfuls.
We had the fried wantons with Made-in-Malaysia chilli sauce *yum* before we were served the wanton noodles. The noodles were chewy with the right amount of Q. While I still preferred the wanton noodles at my favorite ABC market stall, I liked the textures presented in the dish. They made everyone's preferences to correct order, mine and Mutter with no chilli, N's with some chilli. And Siyi's noodles came drenched in bloodthirsty red.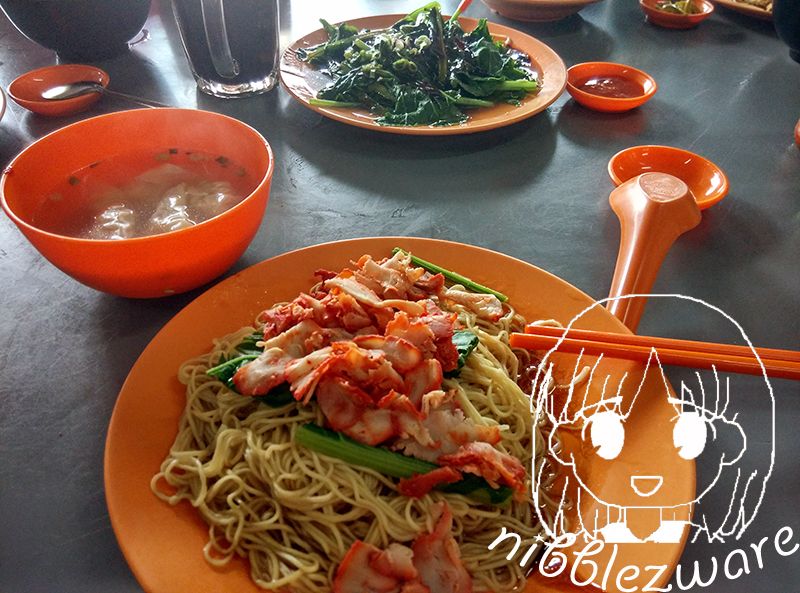 No kidding. It was so damn spicy that I needed my milky hot tea to lower the fire it ignited on my tongue. The boiled wantons were as wonderful as their fried counterpart. Neatly packed into flour parcels which skins did not break in the steaming, whirling liquid. I would go back there again just for the perfectly formed fried and boiled wantons.