When I reminsced about my Deutschland trip, meine Kollegin remarked that it had already been six months (at that time), and I was still savoring the memory (回味). "You must have really enjoyed it very much."
I did. It was everything I expected and more. Like I wrote Onkel und Tante H, >>ich wünsche dass ich mit euch noch einmal an der Pension Gerlinde bleiben kann<< (I wish I can stay at Pension Gerlinde with you again). It was really fun because for once, Bobo and I devoted ourselves to simpler pastimes like playing monopoly cards with Onkel and Tante H at Pension Gerlinde's restaurant till late at night, instead of squabbling with each other like spoilt brats.
If we ever visit Germany (Bobo can be persuaded with the promise of bier) again, we will probably go in Springtime when the air tickets are cheaper. The air tickets were an eye watering S$1700+ per person the other time (at the height of summer). I hadn't planned on going then, but rather in Spring this year (when tickets are cheaper). I am awfully glad I did, because we were able to catch Onkel and Tante H at their holiday time, and it turns out that I am even more busy during this period. If we hadn't gone then, we would never have been able to go now either.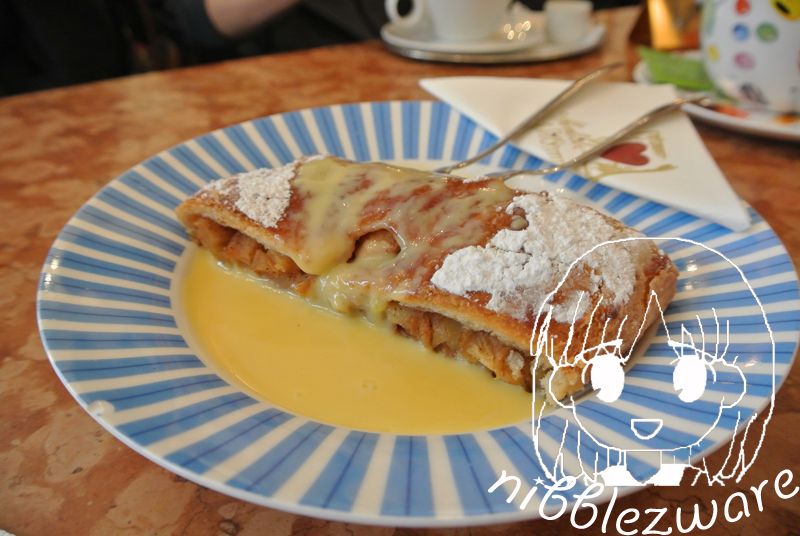 Apfel Strudel in a wine sauce (I can't remember what wine, shit sorry!)