Meine Eltern have been nagging at me to bring over my nice bike which has several gears. Told me it was gathering dust because I didn't cycle it (it was tied to and behind Vater's bike, so it was such a pain to take it out). However I didn't dare to even though there is a nice railing to tie my bike to, just next to my apartment. This is because of all those stupid juvenile delinquents and riff raff who like to go there. Bicycle theft proliferates where I live, so I don't want to take chances. I bought my bike at the same time as Bobo, and his was stolen within one day. He tied it to the railing behind the staircase (next to his parents' apartment) and it was gone the next day. Scary right?
So the best option is a foldable bike which I can keep in the house. I accompanied Bruder to Giant when he was thinking of buying one for my SIL. In the end he didn't buy, but when I recalled, I popped by the Giant and decided to check out the foldable bikes. I was thinking that they would cost minimally S$100+ so I was very pleasantly surprised when I saw a series being sold at S$79.90. Their wheels looked kind of small so I asked the uncle if they were for kiddies.
After being reassured that they were adult-friendly, I had the uncle fold up a cute red one and I carried it onto the bus back. It was deadly heavy though and it only had one gear "pedal hard".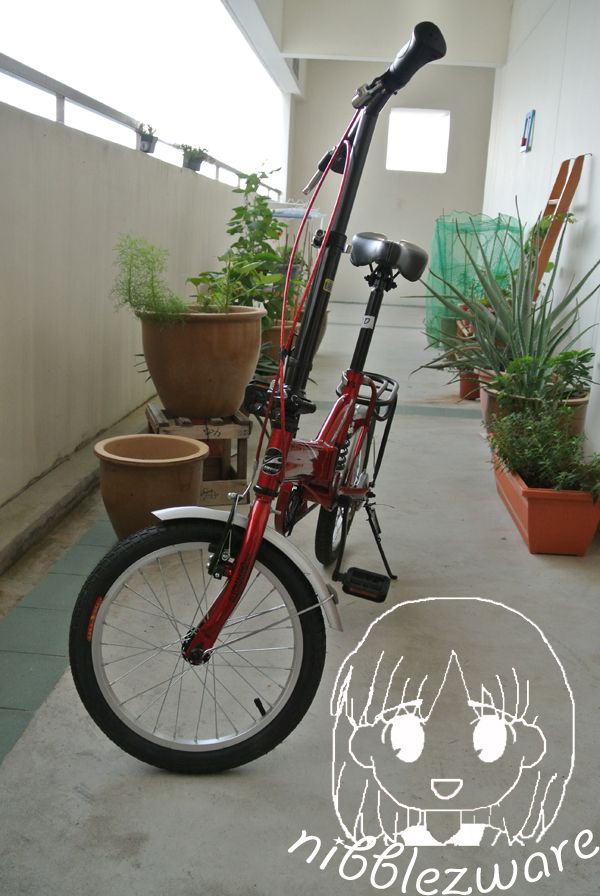 I cycled to the market on Saturday. Not bad, but I will need to learn the new paths seeing that I am more familiar with the cycling paths at my old place.

I like cycling though I picked it up fairly late (when I turned 13). Vater felt that it was time for me to learn, so he bought me a 2 wheeler. Mutter was mollified and asked him why not buy a 4 wheeler first. He said it was faster to learn immediately on a 2 wheeler. After falling a few times and crashing into a tree (mercifully a small one), I learnt within 2 weeks after school.