We were supposed to cover around 5 places and check in at the new hotel on the 4th day, after the rest of the family had left for home. Only us and the bride's immediate family were left at Villa Chocolat, and it was coincidentally Election Day for Bali's new governor. So we had to wait until 1030hrs for pickup.
Only that the guy, Omar, showed up at 1112hrs. I was rather mad by that time, because of the number of places we wanted to cover and the fact that the sun sets at around 1800hrs in Bali this time of the year. In the end, we still managed to cover the places, because it was Election Day so everyone (except those in the service industry) had the day off so the roads were slightly less crowded.
The places we were going to cover were, Goa Gajah, Ye Pulu, Pura Tirtha Empul (yes, it came to my realization that we visited 3 Hindu temples in one day, Bobo said it was as bad as when we were in Germany and I made him cover churches all day), Petulu for the Kokokan (which I called the "koko crunch" after the popular breakfast cereal), and Tegalalang. The driver would also drive us to our new hotel for check in. Cost of this trip arranged with Sila was 450K rupiah (the man BS me and said that he gave the wrong time to the driver. I am not that stupid.)

On our way up to Ubud, we passed by the craft villages, each with their own specialties, but we didn't stop at any of the Ole Ole (souvenir shops). The family had gone for a Ubud tour while we went upwards into the north for the Air Panas and Bedugul area (way more fun, will cover later), and hated every second of it, because it was packed with factory visits and their very expensive shops. One of the aunties complained that they were selling eye-watering USD70 Batik sarongs.
I initially concluded that Omar is a Muslim, because he didn't go with us into the temple area for the first two temples. Instead he stayed outside and puffed away or made phone calls. So unlike Made who actually bothered to suggest additional sights, and gave advice. He was chatty though, probably because he has a better command of English language after driving tourists around for 16 years, versus Made who only did 2 so far.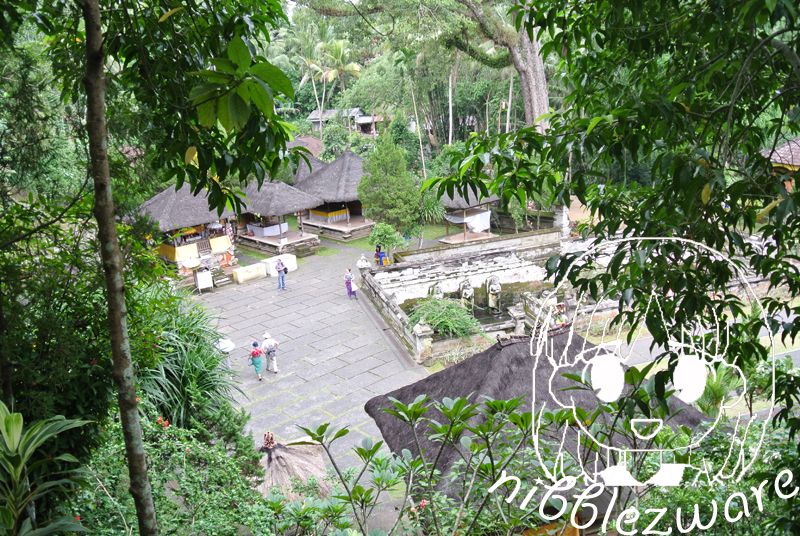 Overview of Goa Gajah from the stairs
We went to the loo before walking down the staircases to the temple area (one thing I have to comment, Bali is much more fat tourist friendly than Vietnam, I almost died walking along Sapa's slopes of hell, but Bali, despite the slopes, bothered to intersperse steps with flat paths or very gentle slopes, so you can catch your breath), where I stupidly sank my handphone into a bucket of water set aside for flushing the loo. I didn't notice because the bucket was touching the loo and it was my entire pocket that went into the bucket. I am not having much luck with loos, just one week before we left, I banged my head very badly against my office toilet's shelf. Massive bruising ensued.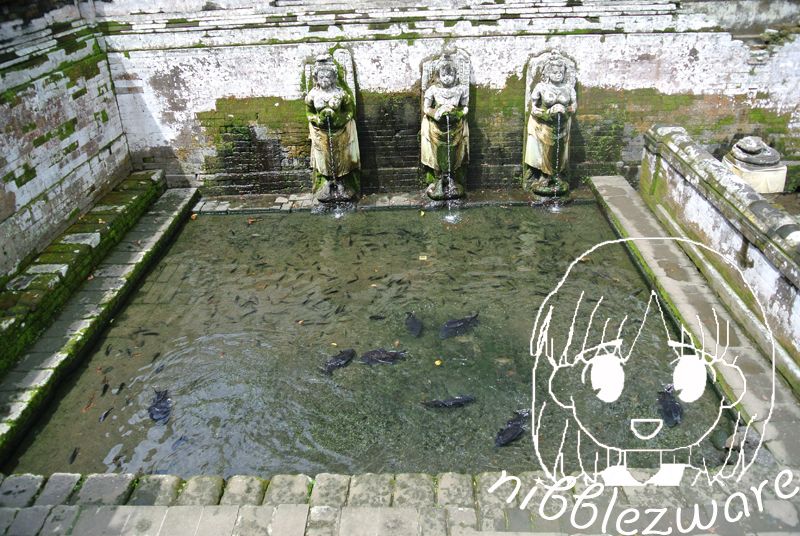 Poor black fishies swimming like drunkards
As you can see from the photo above, Goa Gajah has two big pools, which like most Hindu temples in Bali were used by devotees to cleanse themselves (one for each gender). The ones in Goa Gajah only serve to contain fish, and for some reason, there wasn't enough water, so the poor big fish were swimming at tilted angles. Luckily for them, and unluckily for us, it rained heavily later in the afternoon.
Doesn't that opening look like it says "Who the fuck are you staring at?!"
The big deal about Goa Gajah (Elephant Cave) is its really dark and scary eponymous cave, which contains little statues of Hindu deities. We didn't know what was inside, because like I said, Omar didn't say anything, and I forgot to refer to my printed notes. So I stood in the darkness, when I heard a tourist guide (or a more hardworking driver) introducing two Caucasian tourists the deities. So I latched myself onto them and had a free lesson. As for Bobo I lost him in the darkness, and it wasn't exactly the kind of place where you should grab random limbs. When I heard him next to me (he apparently has better night vision or I was the biggest moving object in the cave), we walked along the cave again and I told him what the guide said.
checking out the carvings and waterfalls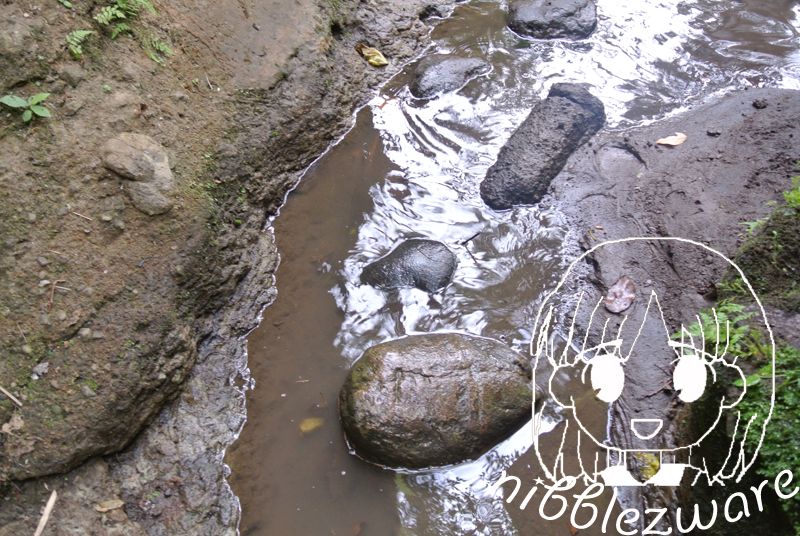 slippery stones
So after that, we walked around, coming upon some tourists looking at some stone relics and what looked like little waterfalls. It looked really slippery and I was reluctant to walk down into the water, when this cute little old man who looks like a little bomoh (straight out of "Eat Pray Love") wearing little wire glasses and carrying a brush made of twigs, appeared. He convinced me to walk down this slippery rock path, and showed me first a stone carving which was ??? to me, and then back all around the entire rock and water path to see another stone relic (which was actually on the right side of the carving). He pronounced excitedly "Buddha!!"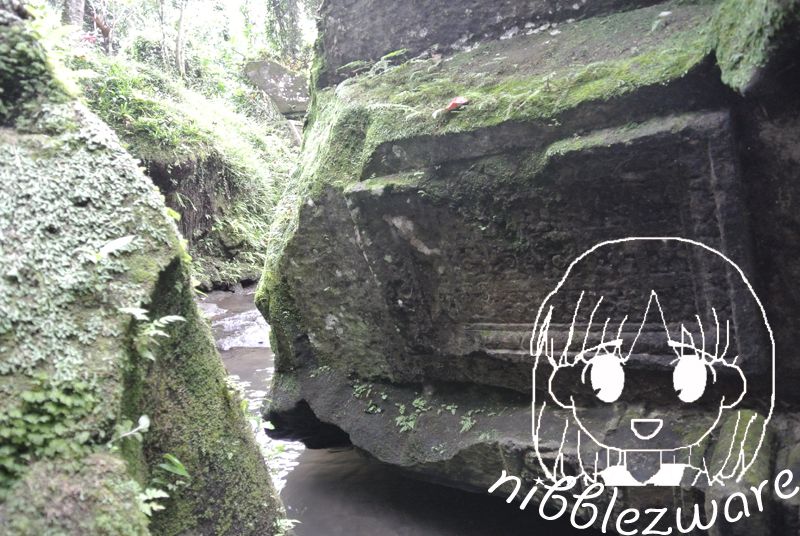 Stone carving
Between the carving and the "Buddha!!"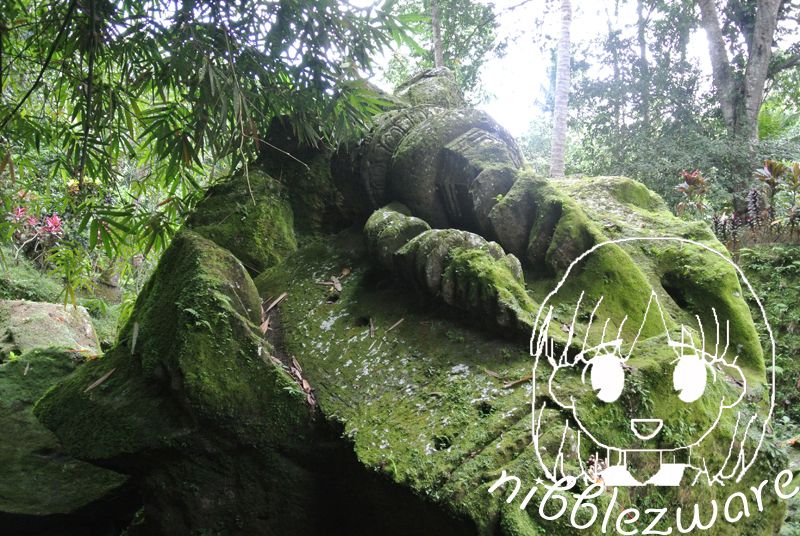 "Buddha!!"
I was like
"本当に?!!"
, but I squeezed out some enthusiasm to show I too was enlightened by this magnificent piece of rock. Meanwhile Bobo ignored both of us, taking photos, and didn't even bother to walk around the entire rock to see the carving. When we met back with him at the stone steps, the little wizened old man suddenly reached out a palm and said in a very business tone "tip."
I looked at Bobo, who reached into his pocket and gave the old man enough money to go to the loo (2K standard price for loo at all public sights in Bali). We ran off before he expressed pleasure in that he too could now go to the loo.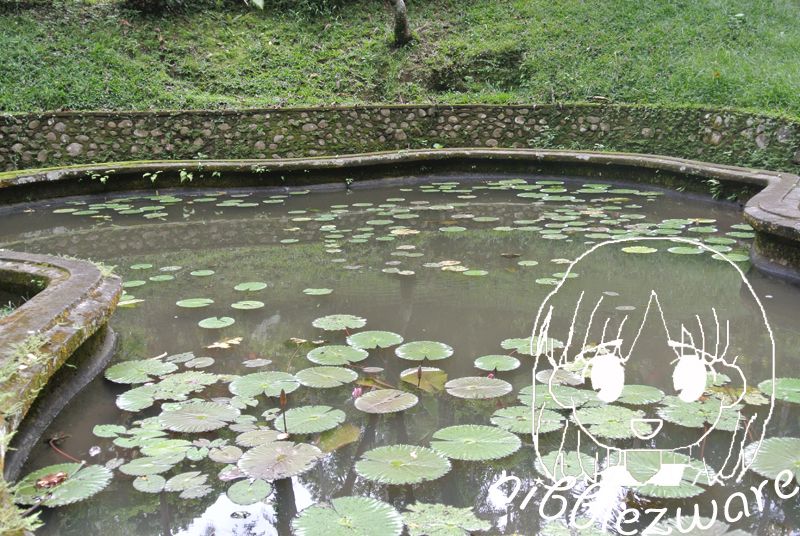 We walked around some more, but it wasn't very exciting so we returned because we still had other places to see. We did chance upon another little old man near a pond beside more stone relics, looking exactly like the little old man we left behind.