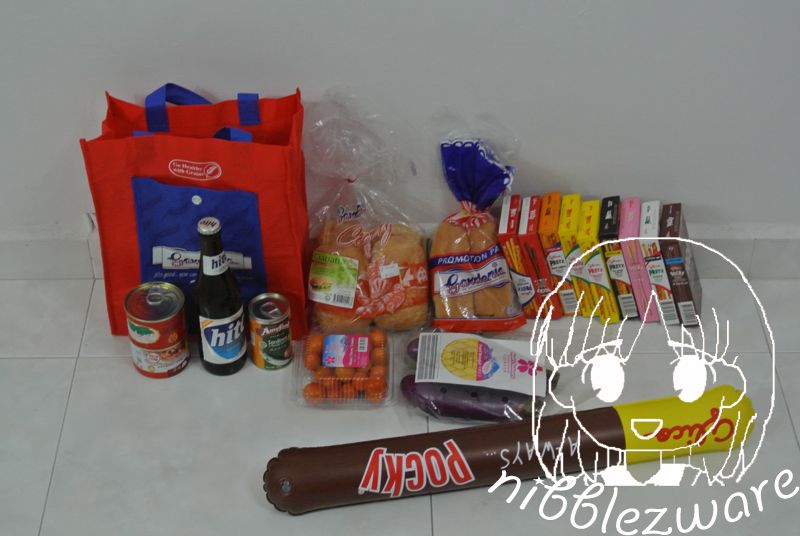 I didn't have $ so I had to borrow $20 from Mr Bear. Bär and I wandered around the hall. Hmm what can we get for $20?
First I got two Portugese eggtarts (S$2) because Bär and I were starved. We had lost Mr Bear at one point when he walked out to answer a call because there was a very noisy "getai"-like performance on stage. So we wandered on and found that the Pocky stall selling a goody bag for S$6. It came with a blown-up Pocky stick, and 9 boxes of Pocky of really weird flavors, like pizza, chilli crab!? 3 boxes expire in Aug, 3 boxes expire in Nov, and the remaining 3 expire in 2014.
I bought some fresh cherry tomatoes and eggplants for S$2.50, and some Korean beer for S$3 a bottle. I wanted to buy soju (S$11) but the stall only wanted cash payments and I hardly had enough to buy a bottle. I also bought two cans of preserved vegetables and gluten (S$2), which goes great with porridge. Finally I also bought a S$1 goody bag (worth S$4) at Gardenia Bread, which was available only to PAssion members, after they buy a bag of bread. I bought some ciabatta (S$2.20), and looking into the bag, I noticed that there was an energy bar, a can of tuna (what the f?) and a bag of hot dog buns.
So that was S$18.70 and I had S$1.30 in change!