Mr Bär and I came across Arteastiq a few times before on our way to Jones the Grocer or somewhere else in Mandarin Gallery. We were always attracted to the art room where people would be painstakingly drawing or applying paint to blank canvases, and swore to go there at least once, but always forgot...
Anyway Mr Bär and I went to a nearby cafe for breakfast (name escapes me now, but it wasn't great). But we again passed by Arteastiq, and this time we swore we would be back in a few days time, for this year's NYE celebration.
On the actual day, we went to
Arteastiq
for brunch, only to find out that they only cater brunch on weekends. On weekdays, it was breakfast. haha.
Ante Meridiem
We arrived really early because we were the only table there, and ordered drinks first before we had our munchies. I couldn't remember what we ordered but what was great about the tea sets were that they all came with a little cookie on the side. I didn't like my cookie, but I liked my drink which was a floral tea served with a dollop of ice-cream.
Ordered by our little Miss Bear




Ordered by yours truly. I remembered it was floral tea with a dollop of ice-cream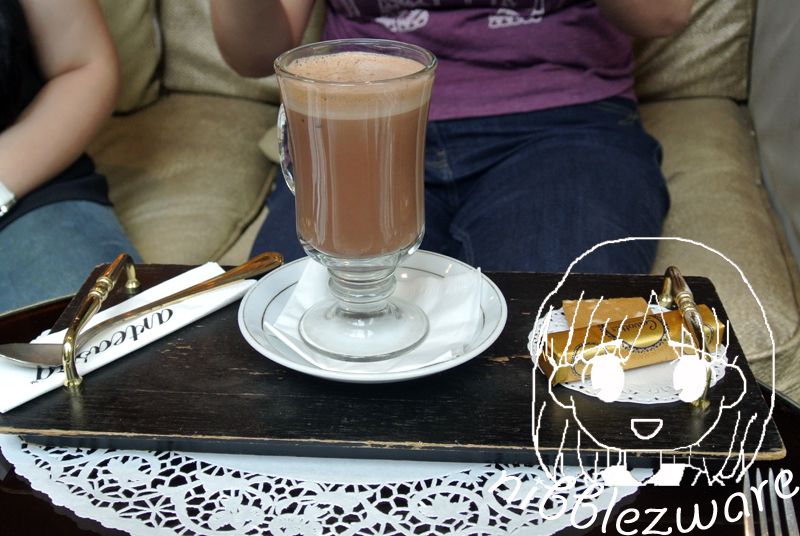 Hot chocolate
Think it was tea latte
The younger bears ordered the Ante Meridiem which essentially comprised of a generous slab of pan-fried salmon lying across potato salad. I ordered First Blush which was a mix of savory and sweet with pancakes and smoked salmon, while Mr Bär ordered, Prime Dawn (sausage, egg and bacon - strange because he doesn't eat bacon, and sausage - no worries he has me to help him polish them off).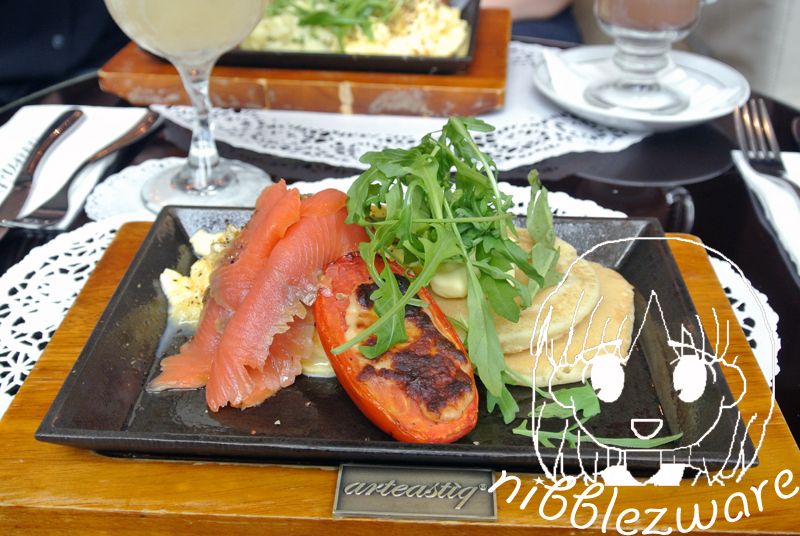 First Blush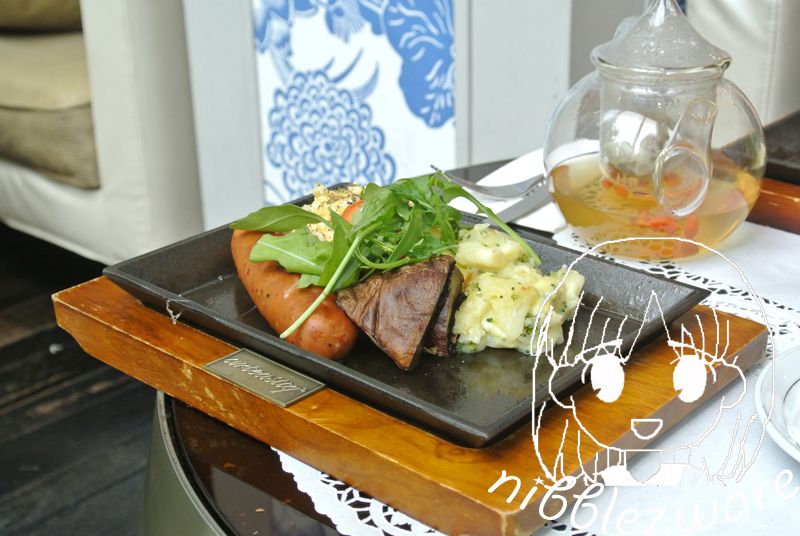 Prime Dawn
The portions for all the food were pretty good, and filling. I liked my eclectic mix of savory and sweet like the cheesy tomato with the sweet pancakes. Miss Bear wanted to try the desserts so we ordered two to share. An orange cake and a ATAS prata. Both dishes came with ice-cream. I remembered two of the dollops were durian (YUMMY). Another was Earl Grey (ok), the last one was coconut or something...
Perhaps I was already too stuffed but I didn't enjoy the rest of the desserts as much. The prata was obviously from a ready-made packet, and the cake was a bit heavy. Nonetheless the ice-cream provided an ambrosial after note for the celebratory meal. I would definitely come back again.
Ready made prata served upmarket