Ms Bear msged me saying that there was a SSO event at Botanical Garden's Shaw Symphony Stage to celebrate National Day. This time the conductor was the heavily accented sexy bunny Jason Lai who is very engaging, compared to his colleagues (*sorry* Lan Shui).
I thought I would carpe diem and try to buy the Garden Festival tickets as well. But so dumb, the guy wanted me to bring my mom's IC as well (excuse me, it's not "MAY bring your IC when buying tickets"). Since we are going on a weekday, I guess I am ok with it. Didn't appreciate the Customer Service counter staff's attitude though.
While I was trashing things out there, the girls set up the mat on a very steep slope (sacrifices must be made at a popular event, especially if you want to see the stage), where we proceeded to enjoy the performance (for me, ogle others' bentoes and picnic baskets at the same time). It was really the sweltering afternoon heat that was the killer, because we were facing the sun.
SSO played a medley of National Day songs, which went down with the mostly local crowd (the usual crowd is the ang mo and the arty farty wannabes like me). They also played some movie themes, like the Pirates of Caribbean, which Ms Bear liked a lot.
After the performance, we walked to California Pizza Kitchen (not like the other time, where we spent the entire evening performance watching an uncle eat his porridge so happily, and decided to walk all the way to Taka's Crystal Jade - service bad - for porridge too), where we got to enjoy a National Day discounted meal of appetizer, 1/2 salad, pizza, and a pasta for SGD49++. We had a really head banging (literally) great meal full of gossip (the best kind).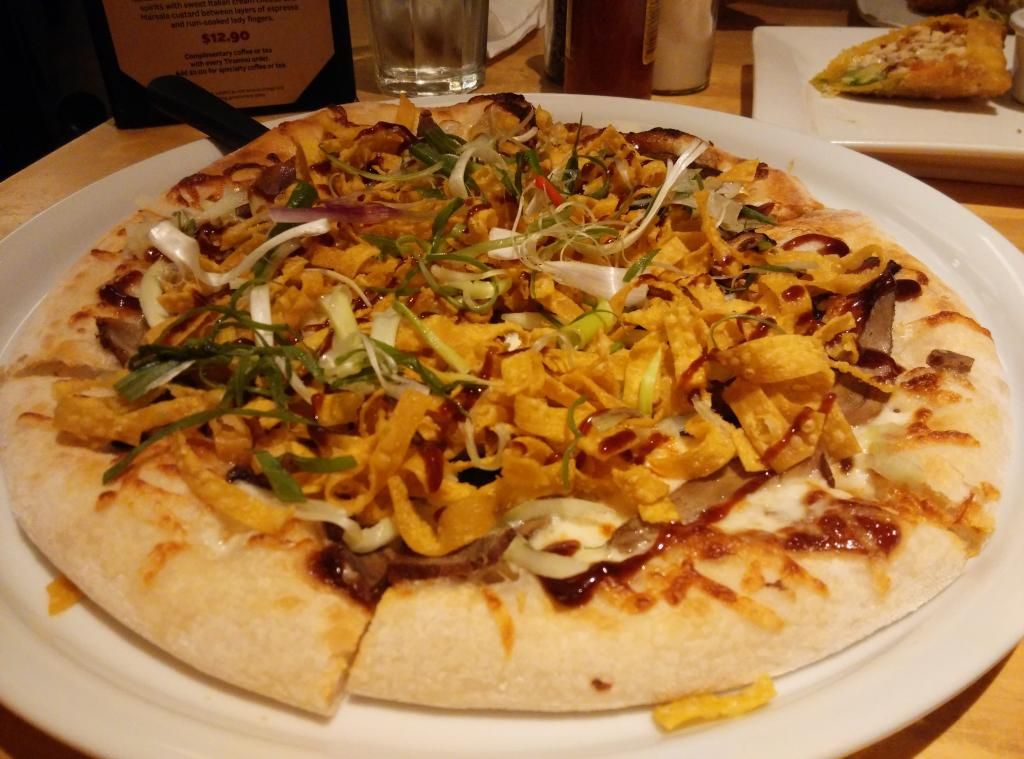 The perennial favorite, Peking Duck pizza (really, it is the hoisin sauce I love, since I no longer eat duckies)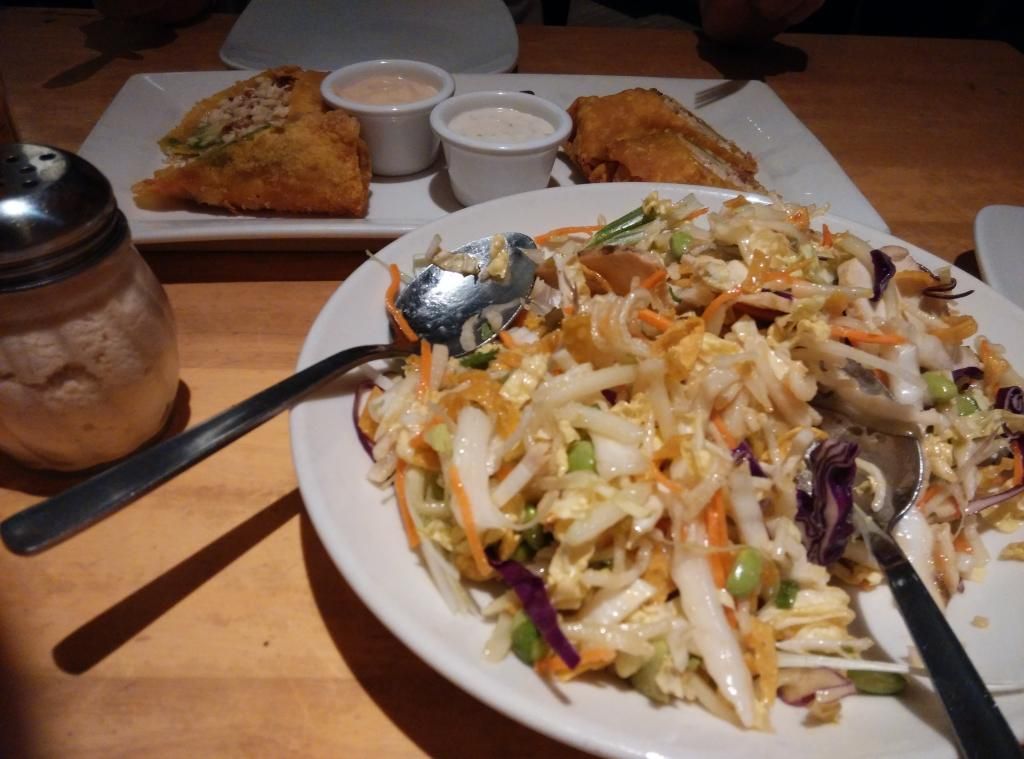 Fried tortilla in the background, miso tofu salad in the foreground
Very yummy, luckily Ms Bear stopped me before I ordered Gongbao chicken spaghetti, because when the dishes came, we realized that the miso tofu salad came with fried wanton skins, the peking duck pizza came with fried wanton skins. If we had ordered Gongbao... well...the deep fried tortilla reeked of wanton skin smell. I'd running screaming if I encountered a wanton skin in a dark alley.
As it was, between the three of us, we couldn't finish the pizza, and I brought it home for breakfast the next day. Reheated pizza still tasted better than cold pizza. Yumz.