Taken by my lovely camera before its lens went kaputt (S$6.90)
Mr Bear said the night scenery at Gardens by the Bay was very nice and that he was going to bring Mrs Bear there Samstag night. So being the shameless thick-skinned thing I am, I immediately put up a paw and asked if we could go along.
So Mr Bear said, ok, how about dinner? I reassured that I would have no problem finding a place as long as he told me his budget.
S$20 a head? Wtf? On a Saturday night... Flexing my fingers, I dug deep into the Internet and found Saveur.
Saveur used to operated as a food stall by two Shatec (I missed their old training restaurants, Rosette and Petals) graduates in a kopitiam called Ali Baba Eating House (I kid you not) located along Joo Chiat. It later moved to its current location in Purvis Street. The place is so popular that it does not take reservations. Instead you will queue up obediently for one of its 60 seats.
B1 and I got lost, because I remembered wrongly Purvis Street as the street near Bugis MRT station. Nope, it is near City Hall station behind Raffles Hotel and perpendicular from the National Library. We left our names, after someone kindly told us to (you see, everyone was bizarrely standing in a line, even though the restaurant has opened for dinner). Then we wandered to
Mani.cur.ious
like I said before.
When Mr and Mrs Bear showed up, bizarrely dressed in bermudas and polo tees, B1 and I were sweating like mad. A middle aged lady had even fainted from the heat. Yup, the food is worth fainting for. Finally we got our seats, where we were served iced water very promptly without being asked, a totally appreciated gesture.
I insisted that it was a goose when we saw it on the signboard. Turns out it was a Duck
We had been standing outside the restaurant like little match girls, we noticed this signboard about their pasta being available for takeaways. Must be very popular, we concluded, so B1 and Mr Bear both ordered that. Me, I ordered foie gras with creamy lentils and pickled pearl onions, while Mrs Bear, bread rolls and Soup of the Day (which was Mushroom soup).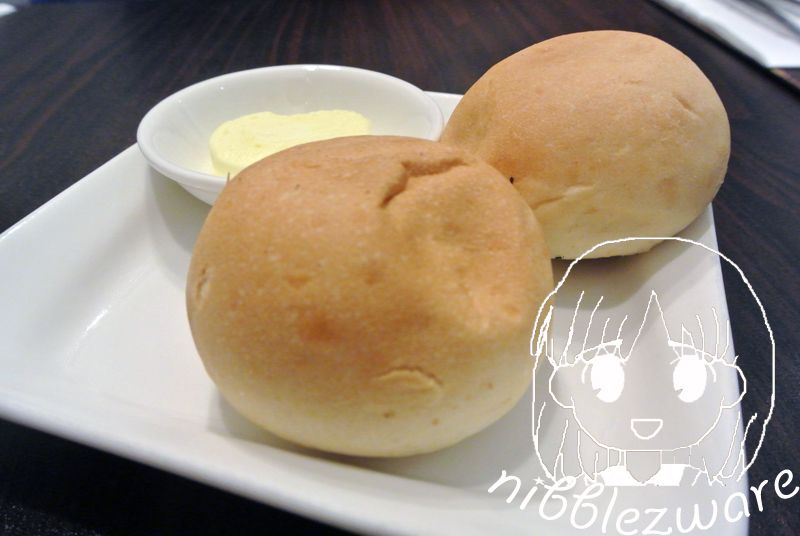 Sorry, usually I wouldn't order bread rolls unless I know who made them. (S$2)
The pasta was most excellent. Al dente, with just the right touch of flavorsome chili oil. One thing I didn't get was why it was minced meat sauce in the menu, when it tasted like tuna to me. B1 liked the crunch of the little sakura ebi (I skipped that because I don't like prawns).
Mushroom Soup. Ok, nothing exciting. (S$4.90)
My foie gras was a wee bit crispy and then all creamy and gooey and yummy inside, all of the right kind. Not like that horrible place
Two Face Pizza
that burnt it. Just the right amount of sear. Swoon....I would have preferred the apple-infused port wine and vanilla bean, but I decided to save some $$ for dessert.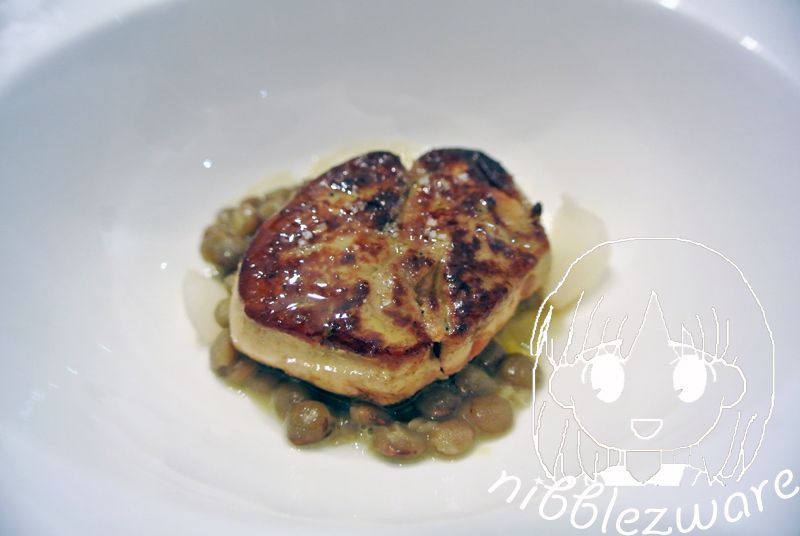 Just the right amount of sear (S$7.90)
Then it was onto the entrees. I chose the braised short ribs, Mrs Bear, the pan-seared bass, and the guys, the duck confit, because everyone else was ordering it.
Duck Confit (S$10.90)
The duck confit was pretty awesome, though a bit chao tah (burnt), I thought. B1 loved the mushrooms (duh, he being a mushroom nut after all). It was fragrant and not the least bit gamy and ducky. B1 insisted I try even though I didn't eat much duck ever since it entered my non-edible list because I like ducks.
Pan-seared sea bass (S$14.90)
Mrs Bear mmm-mmmed through her pan-seared sea bass. She kept commenting that it was juicy. I had to restrain myself from saying "moist, you say it's moist, not juicy." I am naughty and fussy that way. But she was sort of right, the fish flaked easily at the fork and was moist and flavorful.
It was during dinner that we had a pretty wild conversation about foreign brides. It was brought up because Mr Bear realized that he had dressed really down and other diners really dressed up well for dinner. Duh, it's a French restaurant, after all, on Purvis Street. Besides cheap and good eats then party in some club downtown is a good idea. I pointed out to Mrs Bear that there were a lot of local girls dressed up and eating with Caucasian men. I remembered a conversation with an online friend, who said that the Thai women who migrated to his country were ugly and married to really old men. I realized that these women were actually smarter than me. They get to stay at home and keep home without having to worry about where their next meal was coming from. Whereas I studied all the way to MSc, but have to work like mad everyday.
Mrs Bear replied "but they have to please the old man, you know?"
"We have it worse," I retorted. "We have to please our bosses at work. Come home and have to please the old man at home too." Got the evil eye from B1 for that. hehe.
Braised short rib (S$14.90)
Finally my braised short rib came. It was worth the wait. It was soft and tender, and had my favorite mesclun salad and vinaigrette dressing. Yum yum. I thought the gratin wasn't as hot as it should be though.
Strawberries with basil sorbet (I forgot what was the price, it was a special)
We decided on our desserts. I got the strawberry special with basil sorbet, which tasted great! Too bad Mr Bear kept stealing from me. :( He and his wife shared a chocolate mousse with crushed hazelnuts. B1 ordered Textures of Citrus, which was blood orange jelly
served with orange granité, freeze-dried pineapple,
feuilletine, citrus segments, and lime zest. I didn't like his much.
Textures of Citrus (S$6.90)
Chocolate and Hazelnut (S$7.90)
The entire bill came out to be about S$120, which was pretty excellent, considering what we ate. It was really worth fainting for. I would definitely come back here to eat.
In a nutshell,
Saveur
5 Purvis Street,
Talib Court #01-04
Singapore 188584