I saw the bus before I knew about the event. A pretty blonde girl in dirndl, gingerbread, wooden figurines against a light blue backdrop...Germany!!! The "germanophile" in me was immediately intrigued and I googled the words I saw.
"S One Expo Stuttgart Germany".
I have been meaning to go ever since, however there was always something that we had to do, e.g. wedding banquets last weekend. Even last Saturday, I couldn't haul B1 out of bed so we did housework all of Saturday instead and made our way there on Sunday with Tante, it being her birthday.
We went there a bit early because I wanted to participate in the workshops. We were a bit mad because we had a bit of problems looking for the place (I had assumed Reflections showroom was the furniture showroom further down the road, but realized that it did not look right, and we had a fun time looking for the car park). Next the shuttle bus actually zoomed past us waiting at the car park's bus stop, which was specifically set up for the event. My client told me the next day we were supposed to flag the bus, but I think it is a bit superfluous especially since the bus driver could clearly see 8 people waiting there. Anyway B1 drove us in instead, and actually the place was only a scenic 5 min walk across the bridge to the Keppel Marina. Oopz :D
Leading into the main area, there were many little beautifully created spaces, for visitors to better understand German technology and her famous sons. One of the most pretty ones was the Schiller Haus which was a reproduction of the actual house in Weimar.
Friedrich von Schiller had actually fled to Weimar from Stuttgart, which made me very surprised as to why he was showed at the Stuttgart expo, given his horrible experience there. Fascinating. I think the man is of the same wavelength as me (though it is more of a coincidence) since I love the color and architecture of this house.
Actual Schiller Haus in Weimar
Schiller Haus at S One Expo Stuttgart
But I would not be distracted from my objective, so I didn't stop to check out the exhibits but made my way to the registration area (not before telling a bunch of bewildered-looking staff that the stupid bus did not stop for us at the car park). The place was quite pretty, even the registration area. I for one, think that this display is really pretty, though a bit out of place. I would love to recreate this for my apartment. *drool*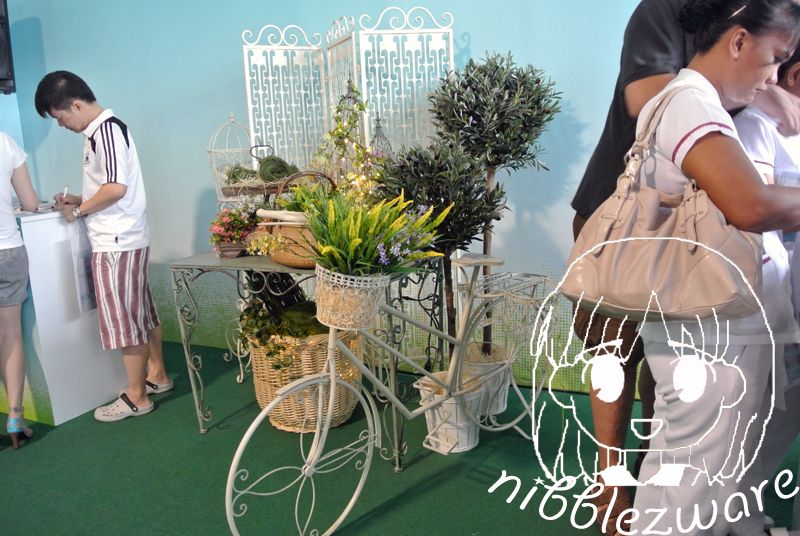 I noticed this on my way out later
The event planners are pretty friendly. They give you S$5 free coupons upon registration, and we even got a free hotdog or bier option later in the afternoon (no need to tell you what B1 chose). Of course the food sold there was rather expensive, e.g. the S$5 ba ku teh that does not come with rice, or the fried noodles S$4.50. Don't even think about getting the German food. Well to maximise your S$5 coupons, I think you can buy the S$2.50 nasi lemak and S$1.50 soya bean milk.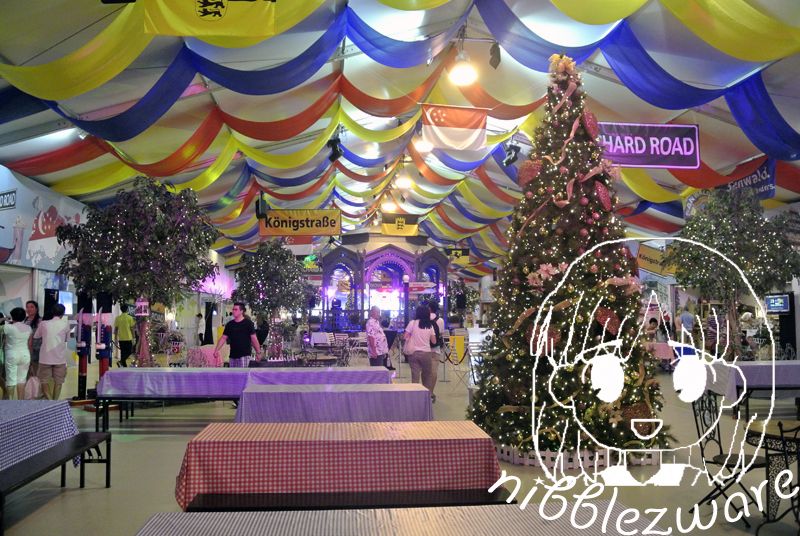 Orchard Road und Koenigstrasse
Anyone can sing Martina's "Toy Soldiers"?
Why are there local food options? Well... because the exhibition hall is neatly divided into two. One side Singapore "Orchard Road", the other side Stuttgart "Koenigstrasse". In the middle there is a pretty pavilion where performances are held throughout the day with lots of tables set up in a biergarten setting. *love love love*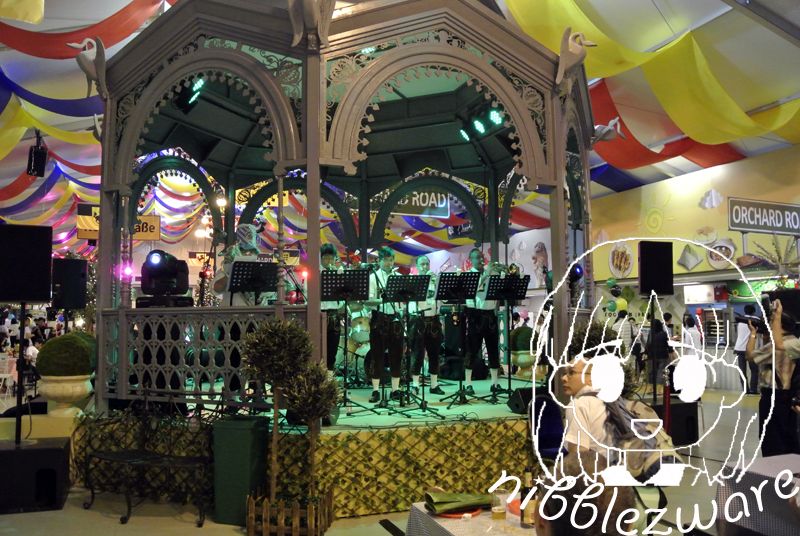 Swiss Alpine Lions in Lederhosen (I prefer pretty boys wearing them...)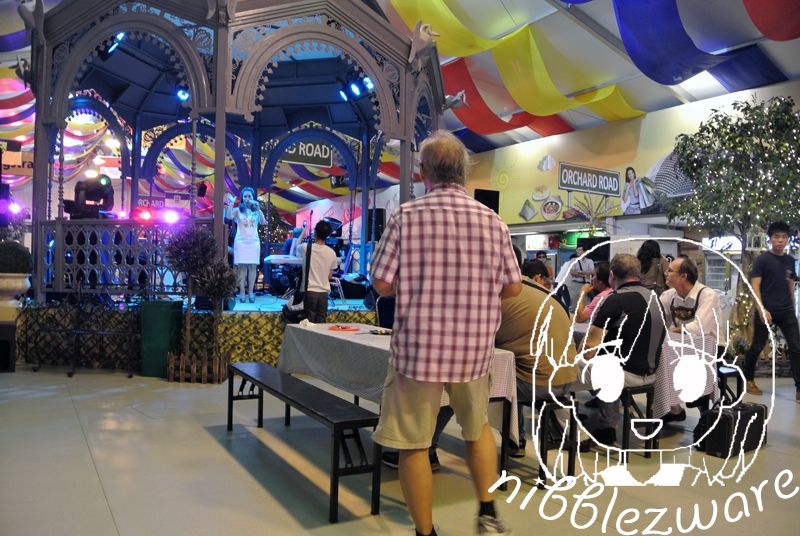 Cute uncle boogieing to Claressa Monteiro & the Brian Benson Trio
Needless to say, you know which side I was more fascinated by...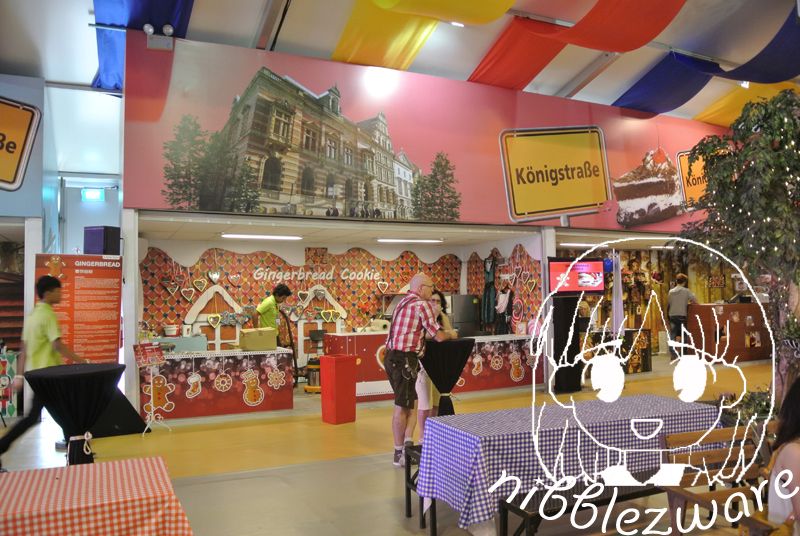 Gingerbread booth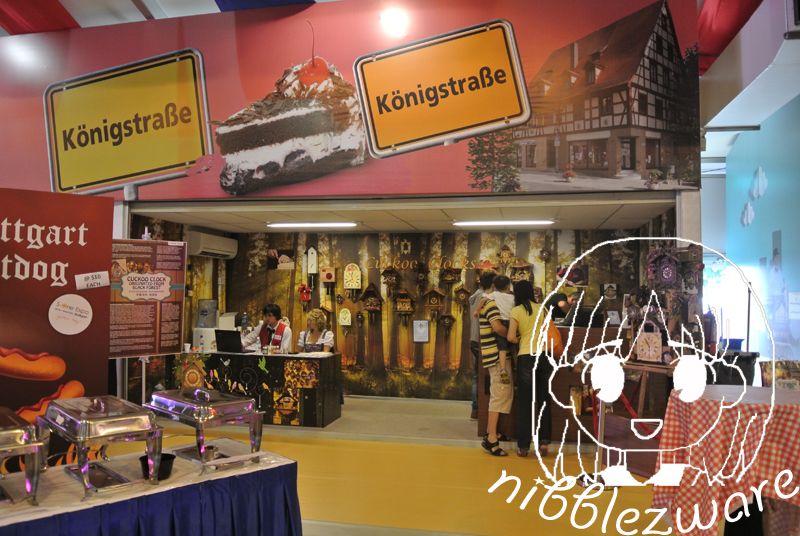 Cuckoo Clock Booth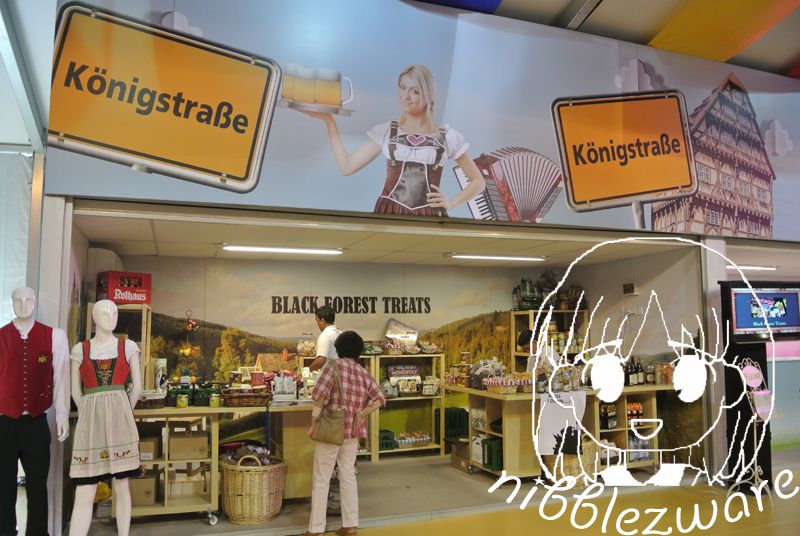 Shopping!!!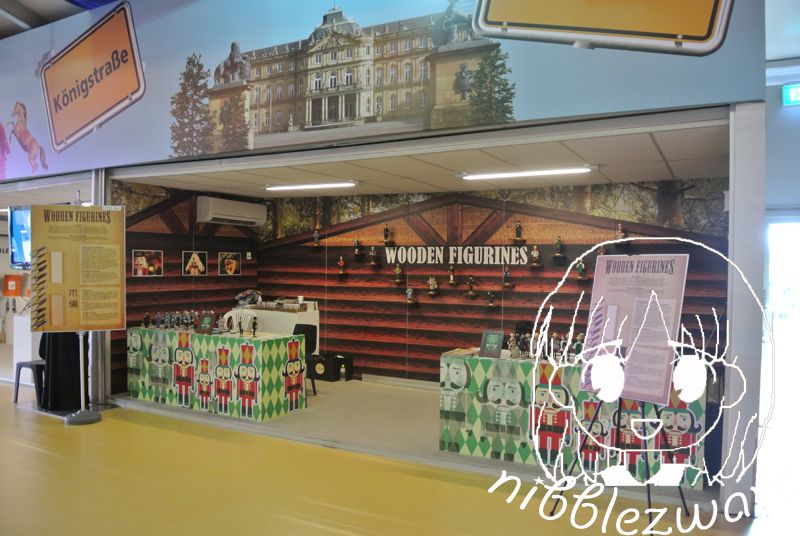 Wooden Figurines
Dragging my Tante, we hovered around the wood figurines workshop till it was time to start...(continued
part 2
)