After a shitty 2011, I am really glad that this year wrapped up pretty well, despite my suddenly developing health problems recently. I just need to learn to relax and not be so uptight. I am still learning my German and will be returning for violin lessons and pick up dressmaking and stop lurking in reddit.com/ CoH. I also pray for CoH to remain up and alive and not killed by THQ's bad decisions.
But I digress. My Christmas Eve passed pretty well, thank you very much. I went to the zoo and was very lucky in that in this monsoon-ridden month of December, it did not rain at all yesterday while we were there. And I got to see all the animals I wanted and even see a sealion performance *cheers* Will post separately (shoot there have been a lot of material but I have not been posting them. Either too tired or too lazy).
Our Christmas Tree this year
Here comes the best part of Christmas. Opening the presents.. *hehe*
I finally got to dig into the ONE present that I have been ogling for almost three weeks since hauling it back from the post office. Too bad the customs require everyone to declare what is inside the parcel so I already know I got a Steiff bear, Bier stein and a bar of Xmas soap *haha*. Maybe that is why I still hadn't gotten 12ax7's present. His is probably stuck between USA and Singapore because he wrote "drugs and bombs" on his declaration, he said. He hasn't been arrested and neither have I so I suppose it is still getting scanned like mad somewhere.>.<"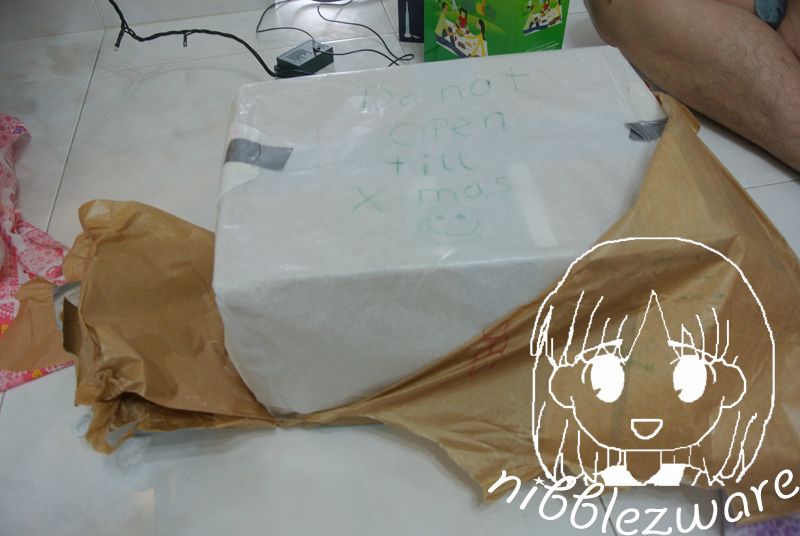 The usual reminder from H to wait until the actual day *hehe*
Packing peanuts and 1 pressie for B1 and 1 for me.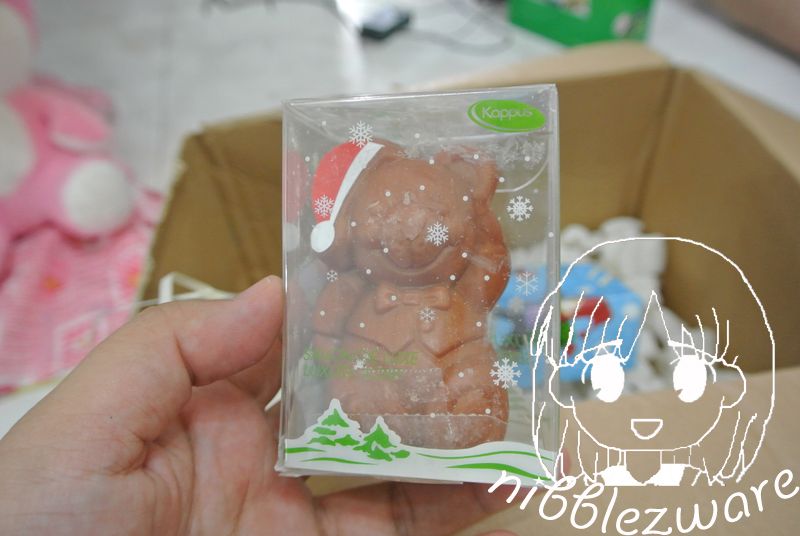 A little bar of Xmas soap (I thought he was a little brown piggy!)
I love my new teddy, Knopf (all Steiff teddies have names already, on the white card attached to his body). He looks like a very hardworking bear who goes to school :D *hehe*. Not sure why he is called the knob in german. H und frau also bought B1 a bierstein from Klosters, Andechs. I am going to put the little cards that came with the present in his backpack. *hehe*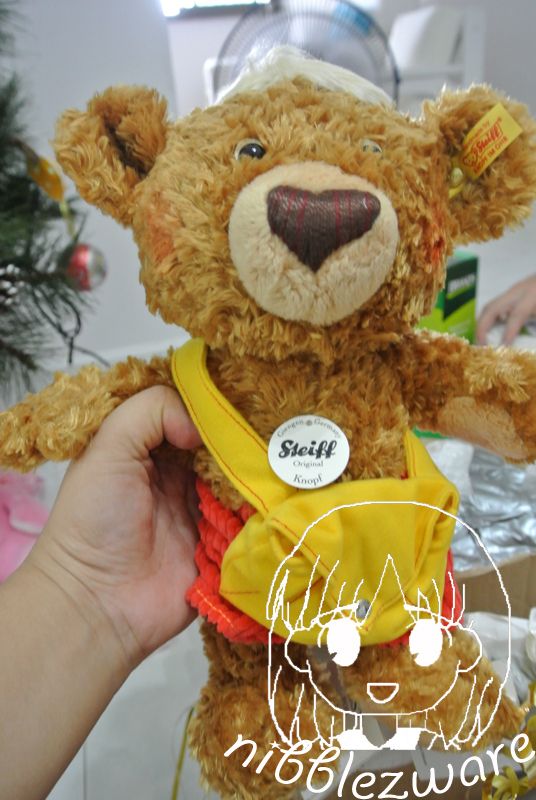 Have I been looking forward to meeting you! The knob?!
I got loads of books from Bär, one I bought myself using vouchers he got me for my birthday (Bletchley Park) and the rest were thoughtfully bought by him at Kinokuniya despite not knowing a single word of German. So sweet!!! He was constantly paranoid that he was looking at the French section (the French and German sections were opposite each other at the bookshop) so he kept harrassing the shop assistants, he said. But in general, he just went by my #1 rule, if all else fails, buy books that have teddy bears on the cover. And he bought me 1 from the Tatz and Tiger series. *love*
Yes if you are wondering what happened to my present from B1. The man always owes me presents. This year my present is supposed to be a new swimsuit and potted plants. zzz. I will claim them!!!