I happened to buy the Sunday newspapers two weeks ago, and poring over them, I discovered a new bakery "Tiong Bahru Bakery" opened by a French baker, Gontran Cherrier. I thought it was strange that it was not eponymously named, to build on his existing fame.
So we went down for lunch only to discover that maybe it wasn't a bad idea that he didn't do that. I didn't have my camera with me, so no photos of the place, unfortunately. Here are
some
from someone else's blog, if you are curious. The place was bustling with activity on a Friday afternoon (even though it was only open for such a short while), probably from all the fanfare the local media had given it.
Since it was lunch after all, I ordered tuna on foccacia, which was S$8. Bär (he had wanted to order plain foccacia but I stopped him) ordered some sort of bacon burger, which was S$8.50. This bakery is not cheap. A note to the wise, request for your order to be heated up. Despite the great service we got, none of the wait staff told us about this option. We only noticed this option, simply because we were sitting near the kitchen door, and I saw the staff warming up others' orders. It is also a bad idea to sit near the kitchen door no matter how crowded the place is. By the time we reached, there were only seats near the counter or the kitchen. I thought it was safer to sit near the kitchen. Nah. The wait staff were carrying hot trays precariously above my head a few times.
Speaking of warming your food, it's a must, because otherwise the stuff taste pretty yucky (I don't care what other blogs say, I don't like the food there). I couldn't finish my portion, which is pretty unbelievable given that I eat a lot. It isn't worth its hype. Bär was digging out his cold dead bacon from his bun. He liked his pineapple, mango and passionfruit tart, once it was heated, though it was a bit tart (the pun is deliberate) for his taste.
Since I couldn't finish the bread, needless to say I did not touch my mixed berry crumble. I brought it home in a paper bag, and the oil from the crumble seeped through the bag (as you can see from the photo) on both sides. It made my office desk oily (I had not paid attention to it after leaving it there until end of day) and I had to hold it gingerly between tissue paper while in a grumpy B1's car (he warned me against dirtying his car).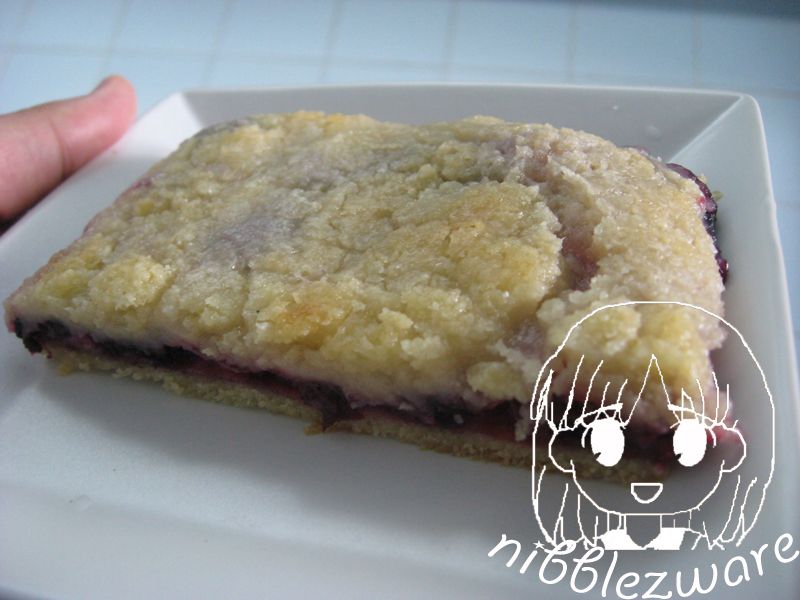 The next day, I had it for breakfast, after cutting it into two and heating the halves up for me and the still sleeping B1. It was incredibly oily though sweet (I suspect he used a biscuit base). No way French women ate this stuff, even if the lady from the nearby French Bookshop bought her lunch from the bakery. We were standing outside her shop and she was mollified that she made us wait so long. I think she felt a little vindicated, after I had the blatant cheek to ask her if she sold German books (hey she had a small English section, so I thought I would try to ask her. After all, German books are really hard to find in Singapore, other than Kinokuniya).

B1, the other fussy eater (I apparently have spoilt his tastebuds over the years, thanks to my being fussy about food) didn't finish his share.