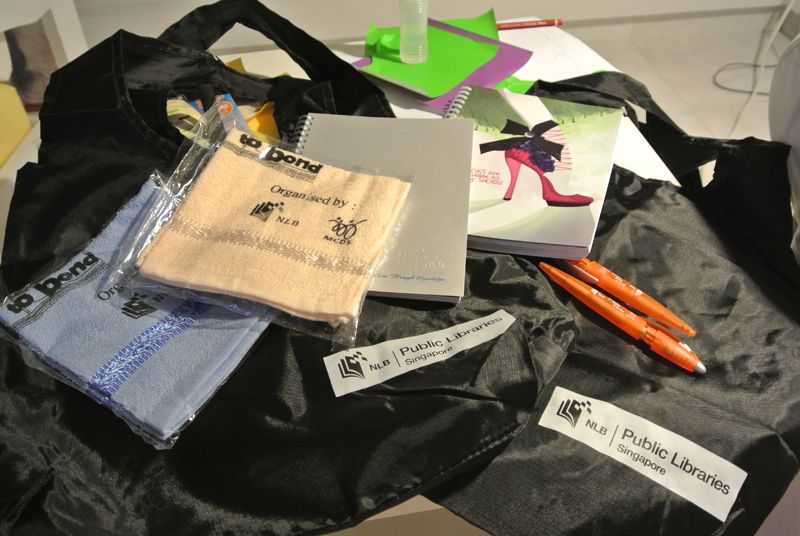 Some weeks ago, I was the library when I caught sight of a special booth set up at the library for the mid autumn festival. All you had to do was guess at least 3 answers correctly to eight riddles (some in Mandarin and others in English) to win free prizes. Anyone who takes part will win the prize (i.e. no lucky draw).
Naturally I participated, especially since I don't have to read like 48 books like the other misguided time (to only win a S$5 ticket to the Maritime Experiential museum, which was a total bust itself). I asked my friend to take part, but he didn't want to. So I filled out one for B1 and for myself.
So today, the library smsed me to tell me I won. Strangely they didn't contact B1, but when I checked at the counter, they did have his name on the winning list as well. So we collected our presents, which was a black bag containing a pen, a spiral book (which you can write on - it will be my German composition book) and a towel. Much better than some other libraries that require you to visit the libraries in the area to win the same thing.
The librarian was so thoughtful, she actually bothered to give us stuff that are gender specific, like I got the free spiral book with a peach colored towel, and B1, the plain grey one with a blue towel. I am also quite impressed by my own restraint, given how kiasu (scared of losing) I am, it was amazing I did not submit for my 9族18代.
On the other hand, because I hadn't gone to my favorite Bishan library for a while, I totally missed out on the opportunity to attend a free workshop on acrylic painting on canvas. Today when I noticed it, it was too late, the workshop had been oversubscribed. So sad. Free paint provided to allow you to paint at the workshop itself and a real expert to teach you... *sobs*