Zafferano's lunch menu ticked all my boxes for Bär's milestone birthday.
Antipasti
buffet,
dessert
buffet, great view. It was definitely on the steep side, so I told the *censored* not to buy Bär a present. I think just the bill itself will make everyone sweat.
I had told お母さんabout the birthday, because I know that she likes to be involved in happy occasions. She said great, include me and she even encouraged me to end the *censored* early. She just told the *censored* we have another appointment to attend to. If I were Bär, I'd be very touched because お母さん can be very hardcore when it comes to Arbeit. The people at Zafferano were pretty hardcore too. They sent me an sms and called me like 3 times during my *censored*, which was very distracting, because I had to present and write my own bloody *censored* notes.
So お母さん and I left later than the others. We arrived at the Ocean Financial Center (the restaurant was on the forty-third floor). A lady was at the door to tap us in, and she informed me that "my party had arrived." Imagine my surprise when we arrived to a mostly empty restaurant and the hostess brought us to an empty table. The restaurant filled up rapidly as the lunch crowd came in so it was a good thing that we made reservations.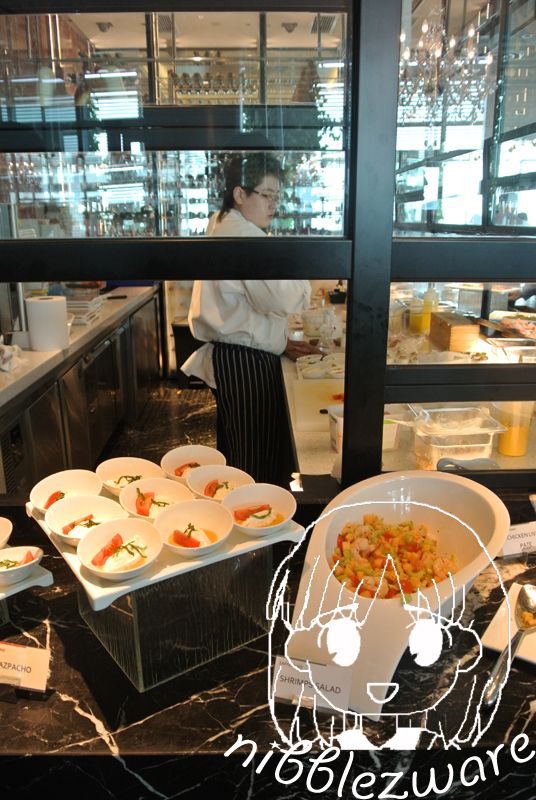 I was very distracted by the all-around view (it was that good) and by the fact that my people had gone missing between 1st and 43rd floors, that I was not able to intercept お母さん when a waiter asked her "sparkling or still, Madam?"
Ok, let me clarify here. I learnt after going to Germany, that it is very common for other nationalities to drink bottled water. Not everyone is as fortunate as us to have water cleaned so much that it is drinkable from the tap (ok I don't look too closely at New Water). Before going Germany, everytime I hear "sparkling or still water", it freaks me out quite a bit, because the atas restaurants in Singapore love to mark up the bottled water a lot. And if you are not in the know, the wait staff will just keep opening new bottles and you will be unpleasantly shocked at the bill.
I don't think I mentioned this before, but when I stayed over at HM's the first night, he asked me if I was thirsty, I said yes, then he poured sparkling water from a brand of water (which is marked up quite a bit in
Singapore's restaurants
). I was visibly flabbergasted, and grabbed the bottle from the table for a closer look (ok it was more than a close look, I was ogling the bottle). I think HM and Frau HM probably thought they had a country mouse come to stay, but I was actually very impressed that they would serve their guests such expensive water, until they explained that in Germany, bottled water, no matter sparkling or still, is quite affordable.
I think you can find San Pellergino at about S$2.99 in the supermarket, and marked up to about S$10 in a restaurant. In Germany, it is about 0,55 euros and that's including the pfand, and about 2,50 euros at a restaurant.
But I digress. I usually let the wait staff pour 1 round of water, then stop them and get them to pour the iced tap water after that. It just makes the entire experience better for everyone (you know what I mean). Pity お母さん chose still water. It is like drinking tap water. B1 calls still water "God's pee". I much prefer the fizzy pop from sparkling water (I call it "God's sneeze"). I developed quite a love for sparkling that when I returned home, I asked B1 whether I should buy sparkling water at the supermarket. He looked at the price and said deadpan "please drink Coke (coca cola)".
Anyway, turned out the *censored* took the wrong lift, so they had to take it down, cross the threshold and take the correct lift. In the meantime, お母さん had asked the waitress to explain what were some of the items because she has some dietary concerns. I know Bär's so basically I told him he could only order either the chicken or the salmon, though お母さん said he should order the lobster cos it was his birthday *hehe*.
It was very logical for the entire party to choose the antipasti buffet over the minestrone soup. We had a lot of fun choosing the items. I personally loved the egg topped with the tuna cream. You'd think it is a very simple dish, but it is difficult to get the egg just so that the egg white is whole yet soft at the bite. お母さん said the antipasti was nice but nothing in particular leaped out at her. She tried everything except the ox tongue, she said. I took the breaded fish (I think it's cod? The *censored* liked it ), mesclun salad (my fave, I will spend the bloody S$5 to buy it at the supermarket), aforesaid egg, fresh mozzarella mit tomato.
*censored* who doesn't eat greens, said she was shocked to see all the greens on my plate. I think the olive oil used at the restaurant is really flavorsome, it featured heavily in many of the dishes at the antipasti *love*.
There was bread at the table, focaccia and some other bread. But it was cold so I only used it to wipe the plate before eating. I still prefer my bread toasted like they do at Au Petit Salut.
Regrettably we only went twice, because we also ran out to take photos of and at the outside sitting area, which offered really awesome views of MBS (eye-level with the infinity pool, too bad it was too far away, it would have been fun to ogle at the half-naked people), the Flyer, and the ships in the horizon. Ok, I can also see it from my house corridor, but it is much further :D and some parts are blocked. I tried to look for my apartment as well (works both ways right?).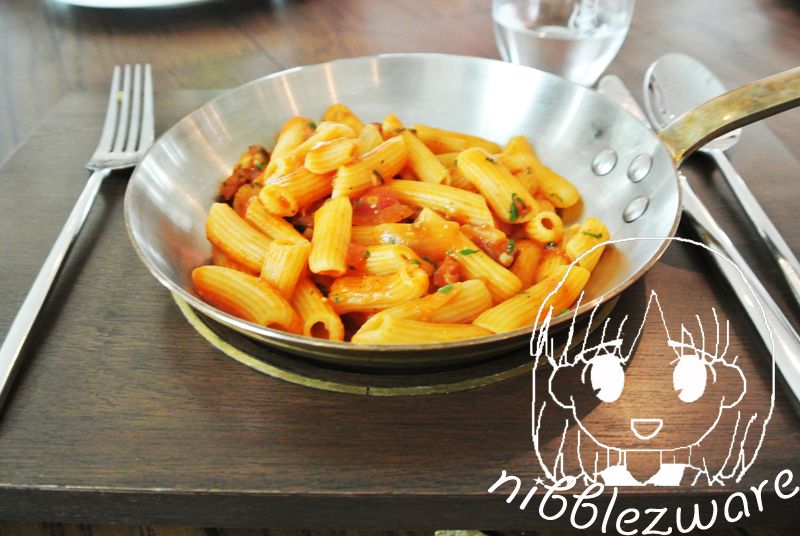 お母さん and Bär being older and much more mature, remained at the table chatting sensibly with the main courses placed before them, while we three were cavorting outside. Aww, I would have liked to go one more round. I ordered the rigatoni, which the waitress had explained as stuffed pasta (I liked, though I was more familiar with ravioli, tortellini etc). Later she came over to me while I was at the antipasti buffet to tell me that she made a mistake and that it was like penne. I appreciated her doing so. My rigatoni was ok. Tasted strongly of bacon, which I like. :)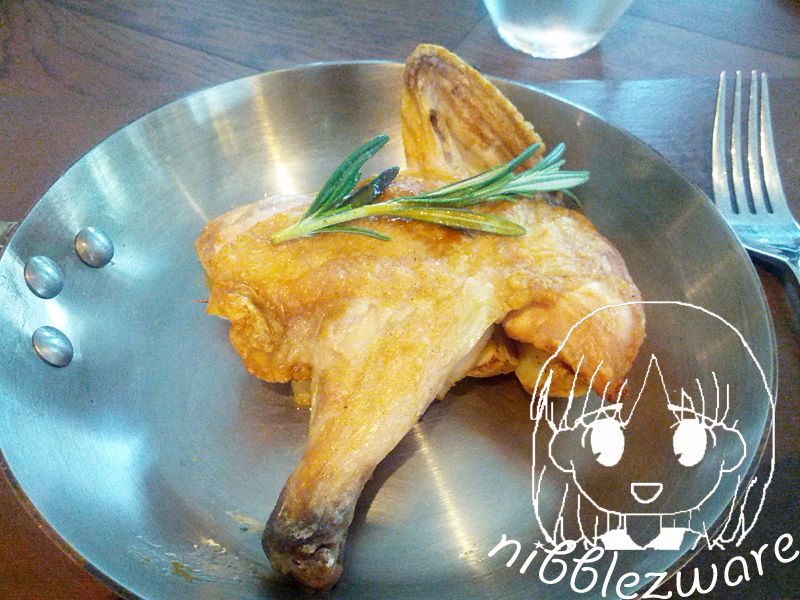 お母さん ordered Taglierini (I think?) while the other three ordered roast chicken. There are three reasons why I usually don't order roast chicken other than at Chinese restaurants where they chop the damn thing into bite sizes which you can readily pick up with chopsticks.
1. It's difficult to eat, while maintaining the correct etiquette. The three of them told me separately that they struggled abit with cutting the meat, though I was quite impressed that all three were able to cut without a single scrapping sound against the pan the chicken came served in.
2. It's hard to get right. 90% of the time, the bird is dry. Eating the breast meat is like chewing on packed sawdust.
3. It's boring. If I order chicken, it means I think the rest of the main courses harbor no hope.
Anyway I was right, the chicken was dry. お母さん said politely hers was alright, but she left a lot of the pasta behind which is rather telling, methinks, though she said it was because she wanted to leave room for dessert.
Oh dessert, mad glorious dessert. I think the desserts were pretty good.We all loved the chocolate cake (served with vanilla sauce, isn't it nice they bothered?), and the berry mousse tart which was topped with a berry gelatine and a thin sponge bottom. The tea cake came with caramel sauce, looked like banana cake and tasted great. The mango pudding was not bad, but the diced mangoes on top were abit sour. So was the grapefruit and pineapple juice served with diced watermelon. Refreshing but tart!
I thought the lemon cream tart was so-so. As was the berry cheesecake. I worshiped the chocolate cake pedestal at least three times, greedy pig I am. It was that nice. Moist. I think Vater has reached that standard for his chocolate cake as well. Kudos to him. I forgot to upload the cake slice he gave me. Will do so later.
Parmigiano Reggiano
, and a strange semi-hard cheese with mold. I avoided the blue cheese.
The three of us were very shocked because it was really expensive. But she said, don't look so shocked, just say thank you. We did, but the three of us were saying in the cab later that it was really ex, and shouldn't have had her pay.
I for one, feel like rotten. As if I had asked her to join us because we wanted her to pay. It was specifically because I didn't want her to that's why I withdrew the $. But we had like 3 bottles of the water so I wasn't sure what was the markup so I asked her to pay first.
Mutter said it was very 潇洒 of her. I agree. B1 said if I ever let the waiter go 1 round of bottled water when he's paying, he will murder me.