To me, a trip to Salzburg doesn't count unless you watch a concert, and being the usual tight pussy that I am, I hunted for a free concert in Salzburg. Maybe my German was too crap, but I was sure that the Michael Haydn concerts would be free so we registered for that one. There were alternative choices, of course, because it was Mozart concert season during that period, but the tickets were very expensive (despite including dinner in the ticket).
B1 and I had to rush back to Salzburg after visiting the Kehlstein (ie. famous for Eagle's nest, Hitler Bavarian hideout. Will blog about that later, even though it turned out that Eva Braun visited that place more than Hitler did. The woman apparently loved to sunbathe topless, which is pretty amazing because we almost froze our bits off on a summer day) instead of visiting the salt mines.
When we reached there, it turned out that the tickets were 12 Euros a piece (which is about S$40 in total for 2). Argh. I kept thinking of whether to spend the money (+ the fact I hate flutes all woodwinds), while wandering to the St Peter's Abbey to buy Schnappi and Onkel H some holy wine. In the end we did.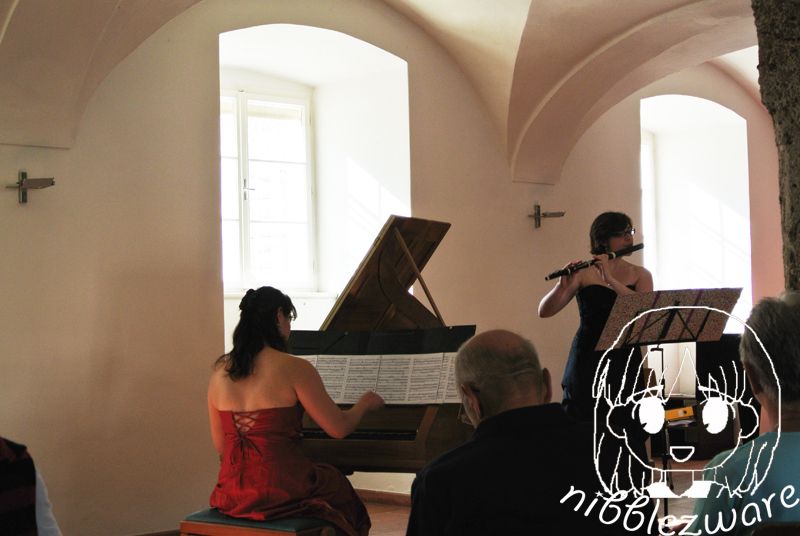 Lena Riedlinger and Mayu Takahashi were playing a trio of songs by Mozart and Johann Georg Tromlitz using a flute and a sort of early piano called the Hammerflügel.
Fantasia in C-Dur für Hammerflügel solo
Sonata in F für Flöte und Klavier
Partita II in G-Dur für Flöte solo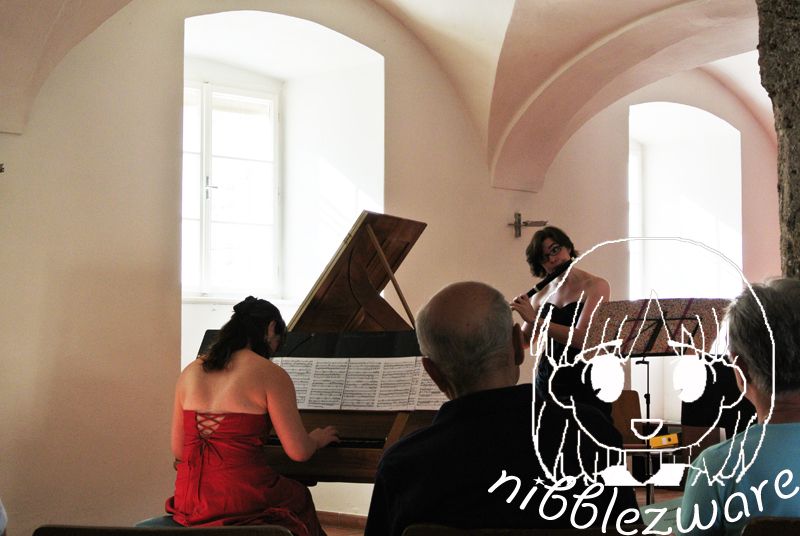 Lena und Maya playing Sonata in F
I don't know why but Lena reminds me of a French girl. I was musing about that while watching the performance. The room had pretty good acoustics, and I thought the Hammerflügel had a unique quality (somewhat different from the modern piano). I can't say I can appreciate music very well but I liked the Sonata in F the most of all. I was glad we watched the concert because it was the first time I have seen and heard a Hammerflügel. What we remember most of the concert was this woman in the audience who loved to turn around and cast everyone the evil eye if anyone dared to make a noise. Lord have mercy on anyone who needed to cough (the place was STUFFY but the acoustics were fine).