The rain was relentless. It started since Friday night, and continued all the way till late Saturday afternoon. Which was bad, because it was the inaugural
Handmade Movement Singapore
craft fair & pretty ironic that they chose an otter for their mascot.
We got lost looking for the place because we drove, and got lost in the maze of streets that was City Hall- Fort Canning area. We parked at Armenian street, thinking that it would be very crowded at Fort Canning's carpark, and then we fought, in our usual way, about where the fuck Fort Canning Green was. The rain was a real damper, and B1's mood was even stormier. I could understand, seeing how he was being dragged out of bed and into the rain hunting for something he wasn't even interested in.
Our favorite word "scheidung" was uttered plenty, you'd bet.
In the end, we followed the music (B1 disagreed, arguing that it was probably music coming from a restaurant). Thankfully it was mercifully loud or we would have continued walking up the Fort Canning Hill.  
What it was supposed to look like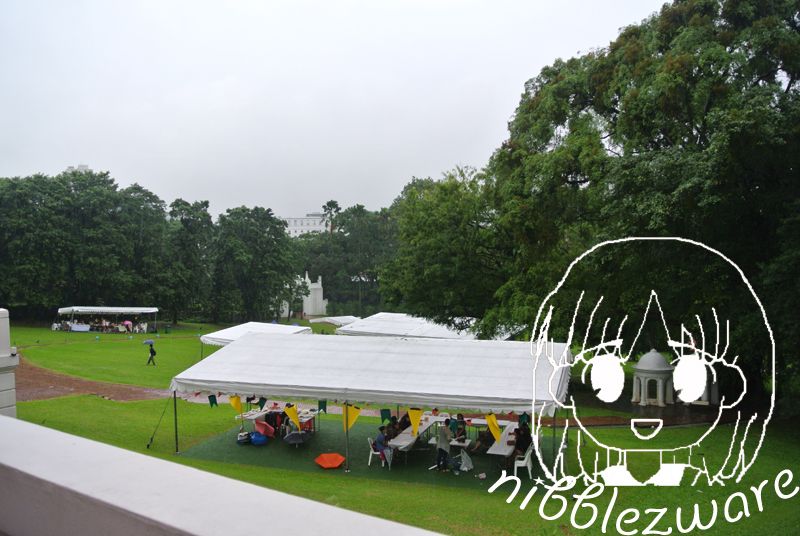 The actual scene
Instead of the lovely garden picnic scene that the organizers envisioned, it was more like bodies crowding into the big tent trying to stay dry against the merciless rain. I dragged the whiny B1 into the various smaller tents, ignoring the squishy sounds that my canvas shoes were making, trudging through the mud.
The main tent
The Milo van was a welcome sight and B1 was in a nicer frame of mind after getting pumped with the restorative Milo. We did a quick round around the stalls checking out the wares (it was a very quick round because I was FAMISHED) before buying some lunch from the Travelling Cow. Food truck in Singapore, so cool! :)
Traveling Cow's Mac and Cheese
I wasn't being a witch, seriously, but I really like mac and cheese, so I bought that, totally forgetting B1 HATES macaroni. Still, he ate it after much grumbling. Then we went one more round around the main tent. Everyone was selling handmade items (naturally), mostly stitched work, which looked really well-made and some, even exceptionally pretty. There were stalls selling unique wallets and purses, e.g. a wallet for the kiddies to store their crayons. I admire their effort, considering my love and (mostly) hate relationship with my sewing machine.
cards and postcards on sale at evonleangelis' stall
I really like the postcards that
evonleangelis
made, and was so taken I kept walking back to her stall. I wanted to buy one of the displays, which was a framed picture of animals. B1 even agreed to buy it for me. I wanted to hang it on my walls, but as I was saying to B1, it was so going to make my own artwork look like shit.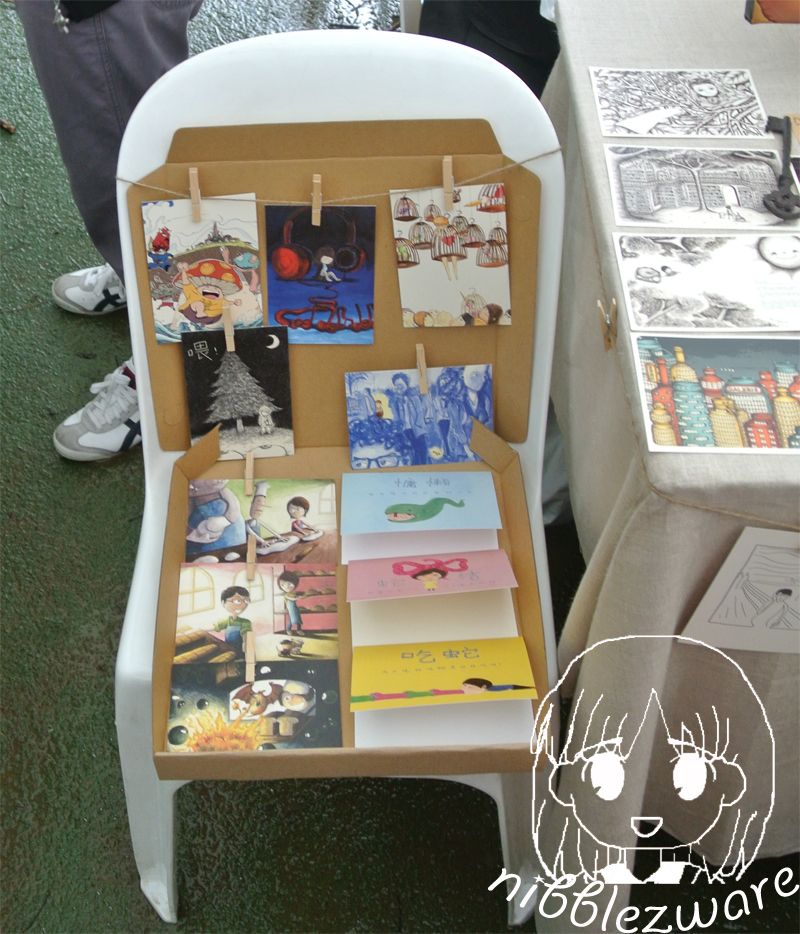 evonleangelis' postcards
My artwork is spared the critique, because damn, it wasn't for sale. The picture was a sample of an invitation card she did for a previous client for a child's birthday. Double burn!
There were also ongoing performances and workshops. The free workshops were fully booked by the time I found about the event, but due to the rainout, there were still spaces available. I wanted to participate but B1's mood was darkly "verboten"ing.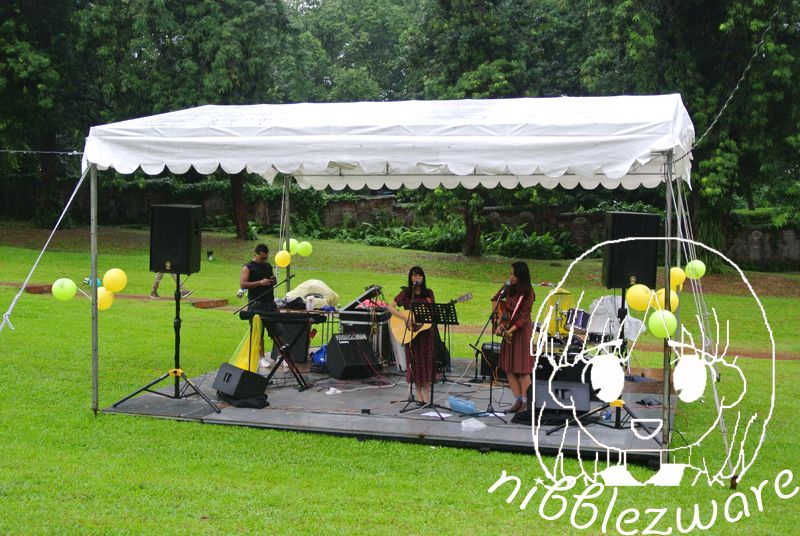 She Falls Asleep
"She Falls Asleep" was bravely performing in a nearby tent, heavy raindrops forming a melancholic backdrop. Nothing against their music, but why is everyone and her grandmother channeling the Zooey Deschanel "New Girl" girlish style nowadays? And why is that style always associated with artsy fartsy events? I am growing tired of this trend.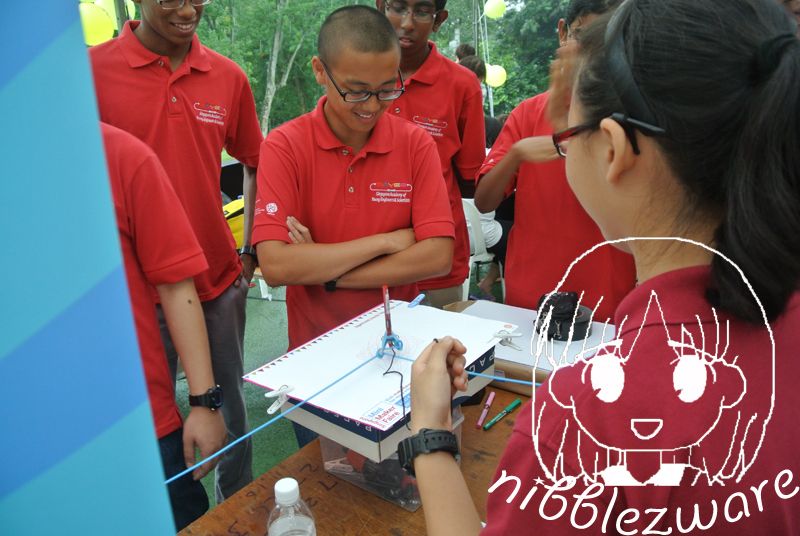 Harmonograph made by two perpendicular, pendulating sticks weighed down by bricks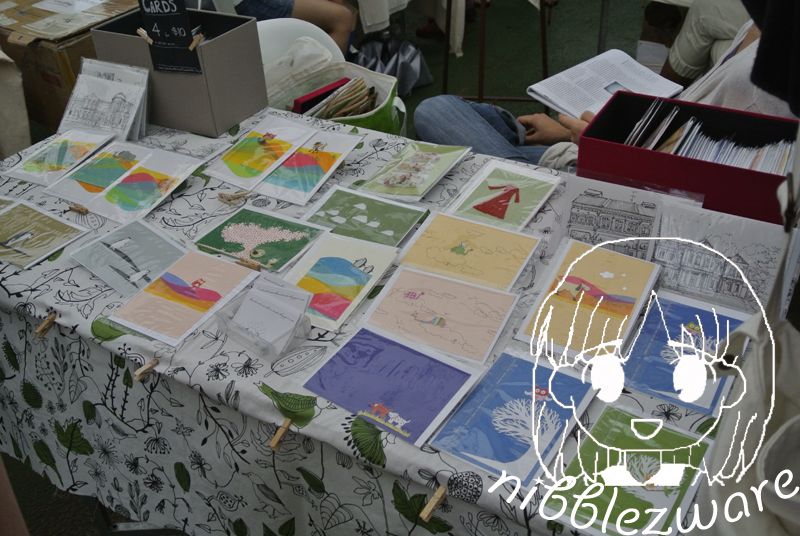 Greeting cards
The Science Centre also made its presence felt by having young scientists help visitors make harmonographs. I bought a little something for Bär at one of the stalls specializing in doughcraft. This reminds me of the time I tried doughcraft with C, and not knowing that they are supposed to be small and cute, I made a huge bread-like thing. It soon developed mold despite the varnish and had to be chucked out. 
Dessert Bar's ornaments are super cute
All in all, it was a pity that it was raining. Otherwise it would have been pretty awesome. Very garden party style. And I loved that it was all high-quality handmade stuff, and not the usual China made products on sale pasar-malam style, in a casual setting with lots of activities and workshops.
One thing I would complain would be that the space was very narrow for the crowd they expected, given that the potential number didn't show due to the rain and we were still squeezing past people despite that fact. Perhaps the organizers will take note of this and maybe choose a more favorable place like Paya Lebar airport, so there will be shelter from the rain.