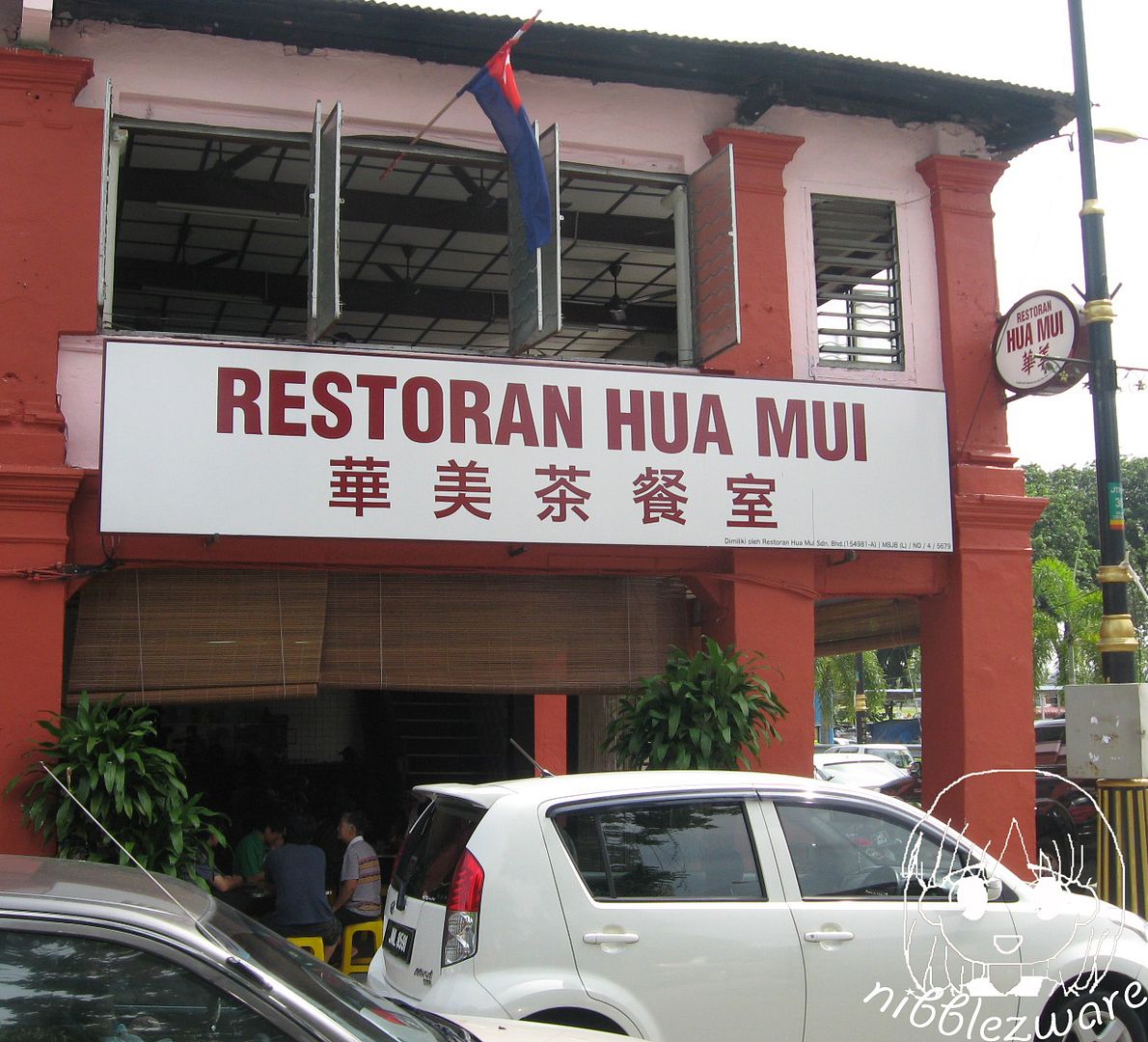 Hua Mui known for their Hainanese chicken chop
We didn't have any difficulty finding Restoran Hua Mui because it was really near Kota Raya Plaza and the big Indian Temple, which Ms Bear was very familiar with. In fact, it was along the route that she would take to get her washing done professionally. No kidding, there are still real Indian launderies along Jalan Dhoby (Hindi word for washing place), unlike Singapore's Dohby Ghaut.
There were a lot of quaint and interesting shops along the way, e.g. cloth shop, accessories shop (for the Indian clientele), coffee shops, and little shops selling flowers for prayers. There was even an undertaker. *faint*
Walking down Jalan Trus, we came upon Hua Mui. Downstairs was very crowded, so we made our way up some rickety stairs to the second floor which was also crowded. Only 2 tables near the windows were available. We slowly grilled on our seats under the relentless sunlight that spilled in through the open windows.
Opening the menu, I decided to choose the intriguingly named Cham. There were two chinese words, but I couldn't read them because they were very small. I should mention that while I am fairly fluent in Mandarin, my written and reading comprehension are pretty awful. I especially hate to read for small words, and would rather guess at the words than read them.
My guess in this case was that it was chilled chinese tea. I was like fuck, when it came, looking like coffee. Well it was sort of coffee, because it was "chan", i.e. 儳, which means mix in chinese. In other words, it was coffee + tea.
Cham! (meaning "dire" in Hokkien). I don't drink coffee, so I knew that I definitely would be unable to sleep later that night. Luckily it was sweet yet very confusing to my palate.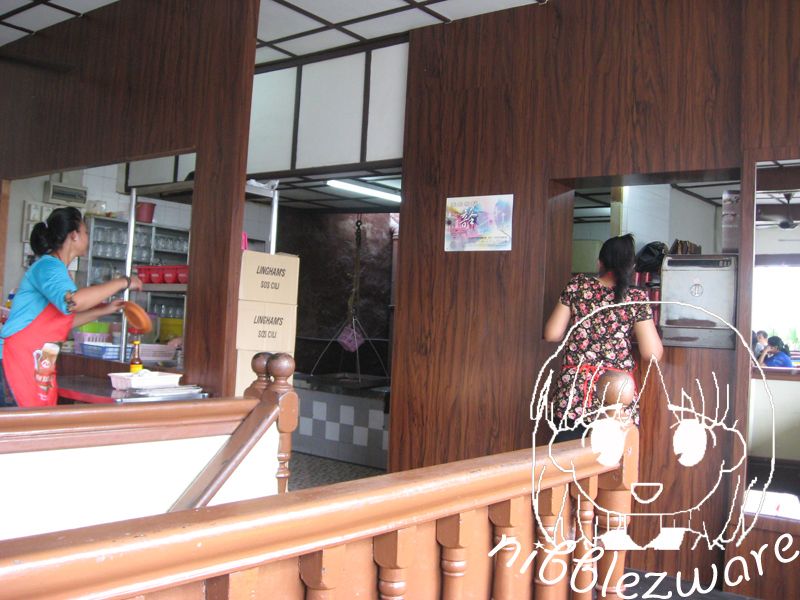 Check out the pulley system in the middle of the foto
Hua Mui was quite recently renovated, but it still relied on an old pulley system to convey its dishes between the floors. Then when the chicken chop reaches upstairs, the staff only needs to top it up with the sauce before serving. Hot liquids for the customers upstairs were all prepared upstairs, so there was no chance of spillage or scalding.
The famous Hainanese chicken chop
Hua Mui uses dark meat and not breast meat, therefore the tenderness of the meat contrasting with the crunchy coating. I didn't really like the potato wedges but I read somewhere that they were the pièce de résistance. I liked the tomato though (nice chickenly flavor).
Still, it was an interesting experience. :) I must say the place must be hankering for the tourist dollars, because this dish, no matter how nice, is not worth 12 dollars in a currency. If I had to pay SGD12 for this, I will say fuck you. As it was it was Ringgit 12 (i.e. SGD4.91).