We were in the area (ok, it was deliberate on my part) because I wanted to return my books at the library located within the Woodlands Civic Centre. It was a rainy day, as usual, and we were late for our dinner appointment, so pardon for the 'blur' quality of some of the fotos. I also note that my hands are getting rather shaky nowadays and it affects the quality of my fotos quite badly.
Pop-up Noise Setup just outside Woodlands Civic Centre
I am not sure whether it was because it had been there for at least two weeks but there were thankfully, not many people at the exhibition, despite the heavy foot traffic between the Centre and the main mall, CausewayPoint.
Food related art :D




Prawn Mee - Prawn luxuriating in hot soup
There weren't many exhibits and some of the artists I had seen before at the last year's event at ION, e.g. Ziqi, who is a Malaysian artist based in Singapore.
By Ziqi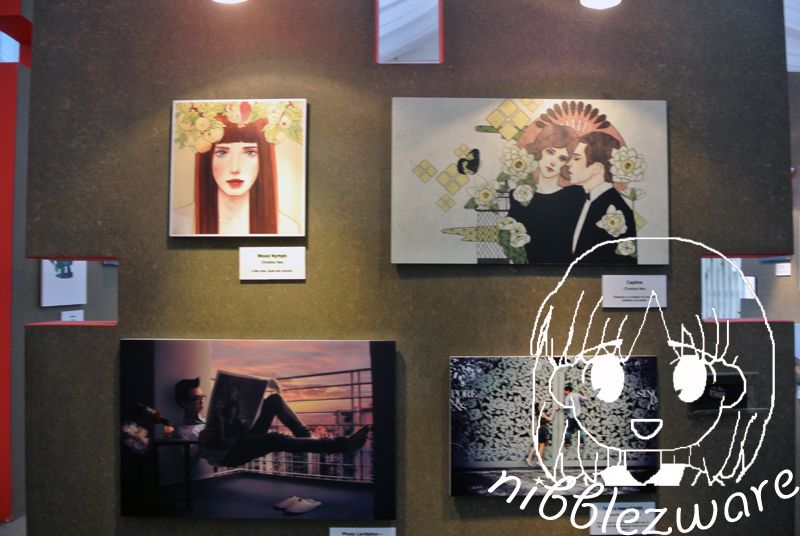 Also seen before, artwork by local artists
B1 likes the Priestess (top left)
My favorite set of pictures, esp the bottom right and middle
Just like last year, there were alot of free and fun stuff to try. This exhibition allows you to make your own postcards or take the ones which are being circulated for free (Bär and I already took some at
Orange Thimble
). You could also draw on the drawing board, which I didn't because we were rushing to the library and onto our next appointment.
Check out
Noise Singapore
to not miss out anything on the local art scene today.