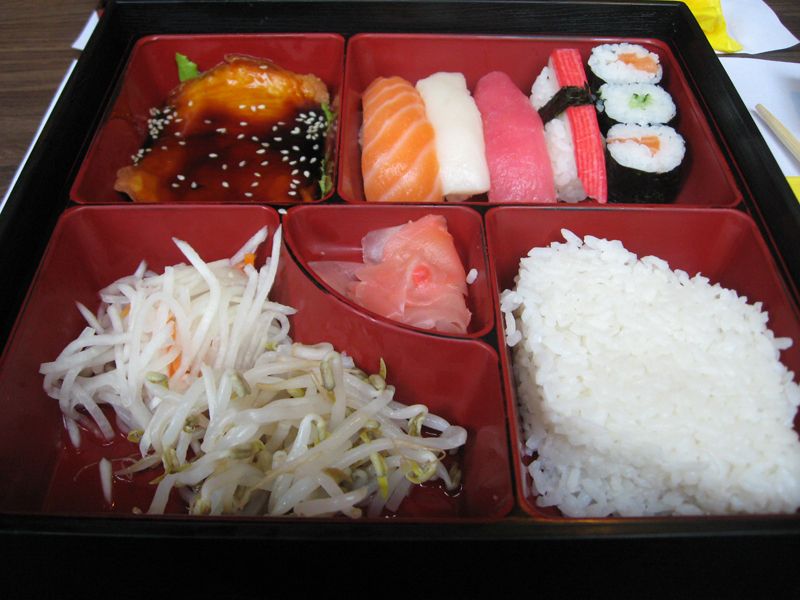 This is a Salzburg Canontese-run Japanese restaurant's interpretation of Japanese food.
H.O.R.R.I.B.L.E
I blame the Japanese people who were eating inside as we were passing by, getting beaten down by the relentless rain. We thought that since there were Japanese there, it couldn't be that bad right? Wrong... It appears that Japanese tastebuds cannot be trusted the further they are from Japan. B1 said they were just probably relieved to see something remotely familiar after all that brot. I know I was, but I wanted to try the Chinese restaurant which was supposedly nearby, but we could not find it.

I use the "do I see the Japanese eating sashimi" as the benchmark for the bearable freshness of the sashimi in a Japanese restaurant in Singapore. If they only eat the cooked stuff, you know something is off.... But I was curious how Japanese sushi looked like in Salzburg. So I tried (so brave right? No sea nearby, bet it was all thawed crap... which it was.. sigh).
So this is a Japanese sushi bento. I knew they were Cantonese because they served us miso soup before the bento *haha*. The beansprouts and radish were pickled, ala Cantonese sauerkraut haha. 14 euros btw...not including tips.