After my violin lesson today, we decided to try the Korean restaurant
Big Mama
. We were abit leery of the ala carte buffet steamboat and the zi char stall we always frequent on an XOR basis. The buffet's standard is dropping, the price per head has gone up, and B1 pointed out that the auntie has never bothered to treat us any better even though we are her most frequent customers. Think he is mad they are so stingy with his favorite lala clams. And there is only so much 牛肉炒芥兰 one can eat, no matter how much we love the dish.
So we popped over to Big Mama. It is one of those homemade Korean ajumma style (I like~) establishments and it even had those UV ray bacteria killer cabinets where they store the cups for water. Hardcore. It was so Korean, I felt very nostalgic for our trip to Seoul some years back when B1 went for a conference at Seoul National University and I had fun running around Seoul, visiting all the palaces by myself.
The requisite tissue box and utensil box on the table and the plopping of the iced water bottle with two UVed cups and the menus the minute we sat down. Big Mama's waiter boy wasn't very friendly, because I couldn't decide between Dakgalbi and our usual standard BBQ faves, short rib galbi and samyeopsal. In the end I chose Dakgalbi, which is chicken BBQed with cabbage, rice cake etc, since many Korean restaurants in Singapore do not offer it. Besides I had fond memories of the Dakgalbi I had in Seoul. It was a chain restaurant and the boy cashier flirted with me *hehe* (all my favorite memories were at Korean restaurants).
B1 didn't care what I ordered, as long as he got to drink his favorite soju. We smuggled bottles back the other time. It was only S$1 one in South Korea, and it costs as much as S$22++ in Singapore. Big Mama sells a stronger 20 proof one at S$18.
20 proof chum churo (soju)
Big Mama gave 6 plates of homemade kimchi. I can immediately tell it is homemade, after eating and making so much pickles myself over the years. (Napa cabbage, actual traditional Kimchi, was the only one I hadn't tried
until recently
).
I was very pleasantly surprised when B1 praised my kimchi over Big Mama's. He said mine was stronger (of course), because I let it ripen for one week, while Big Mama does theirs twice a week (checked with Big Mama herself). Later when he became super wasted, B1 started waxing lyrically how Big Mama's kimchi tasted like a young virgin, while mine was a full bodied, busty woman (I'd look questioningly into my fridge, but we already finished my kimchi during the weekend already).
But being the big Kimchi addict fiend, the ass ate up every leaf, so I couldn't taste the difference.
Big Mama was an adorable lady. Really approachable despite her somewhat intriguingly accented, pidgin English. She told me that her Dakgalbi and steamed sukyu (which is the steamed version of samyeopsal) are the most popular items on the menu. While she was stir-frying the dakgalbi, we started chatting about traditional kimchi making, which I am very into (previously it was bread-making) now that the colder weather is in. My primary specialties were radish pickles but I lost my recipes, dumbass that I am.
Dakgalbi has spicy marinated chicken, sweet potatoes, rice cakes, carrots and cabbage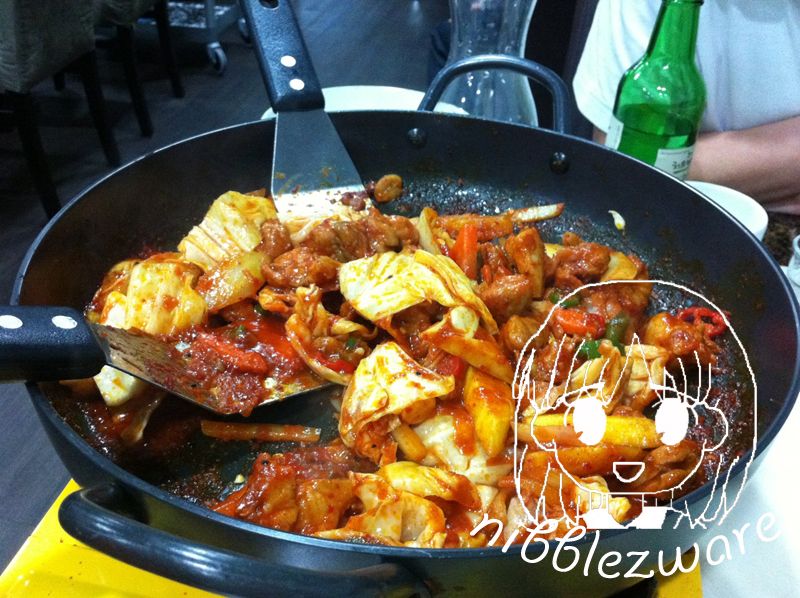 How it looks, when ready to dig into
Upon hearing about my interest, Big Mama brought out another plate of simple daikon pickles and lettuce leaves which we could wrap up our Dakgalbi in. I think she was delighted to find Korean food gourmands.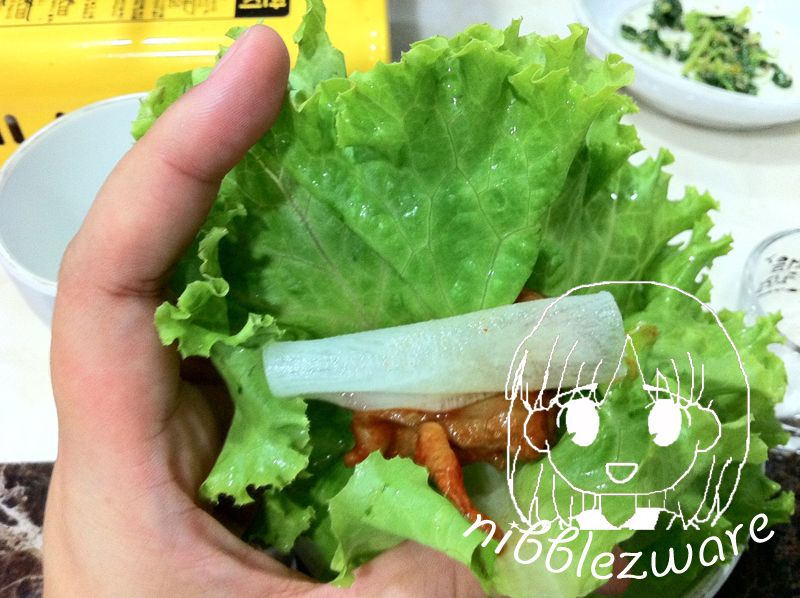 Wrapping dakgalbi with daikon pickle in lettuce leaves
Hampered by her English and my bad hearing (ruined by too much Shayne Ward's Close to Close and my own violin playing in the last 2 hours), I worked out that it is the ratio that is important for kimchi making. She told me that I needed to boil water, sugar, salt and vinegar until the sugar melts and pour the boiling liquid quickly onto shredded radish, so that the radish will remain crisp. Then refrigerate once the mixture is cooled. No problem, even though she didn't tell me the ratio =D.
She was more precise with the traditional kimchi recipe. She said I should put 2 litres of water and 2 paper cups of salt (maybe 1.5 cups of sea salt, she told me, when she heard I use sea salt) to soak my napa cabbage. Soak for 2.5 hours, while turning the cabbage each time at each half hour mark then rinse the leaves at least twice. But Big Mama pronounced that kimchi is delicious with a little salty taste =D. She said I should cut my cabbage instead of leaving them in quarters (I liked to be authentic), as the flavor would sink in faster.
After that, mix chilli flakes (1 paper cup), sugar, salt, garlic, radish, glutinous rice flour, spring onions with fish sauce (she pronounced the fish sauce sold in NTUC as viable, though she uses traditional Korean fish sauce). Dear Big Mama, you sly woman, you didn't give me the ratio for the mixture *haha. She said that even after she teaches her friends to make kimchi, they would return and tell her that are not able to make it as well as her. She was so adorable, she waved her two hands and said "that's because I make them with my hands many times".
After we were done, I remembered to leave a bit in the pan so that Big Mama could use the leftovers with the fried rice (we tried this in South Korea. I had read about it and the charming cashier/waiter had fried the rice with cheese and leftovers that we were careful to leave behind after he cut up the cheese and leftovers).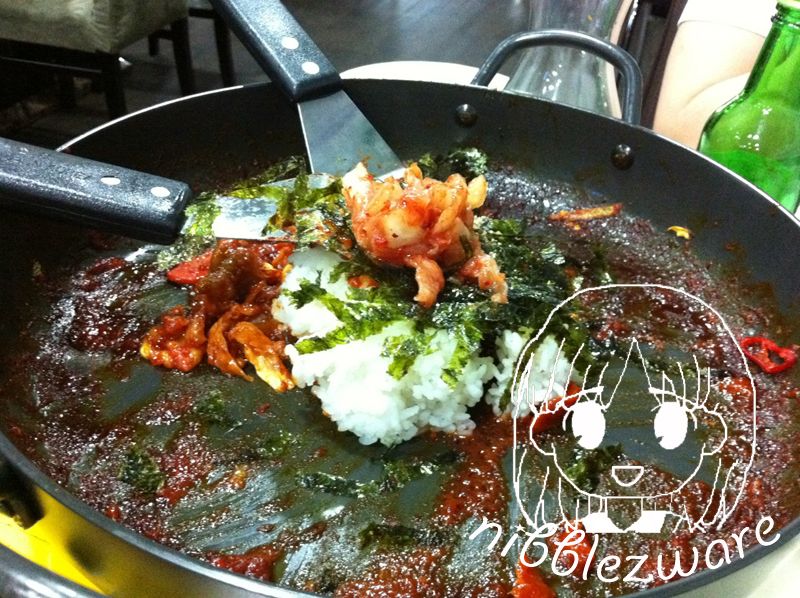 Big Mama's version does not have cheese, but has laver, and daikon kimchi
I still prefer the boy's version. There is something naughty about eating cheese with Korean chilli and Big Mama's had sesame seed oil (which I think came from the laver), which I am not too fond of.
I really like Big Mama. Down-to-earth, hearty and she doesn't charge service charge nor GST even though her charming service was definitely better than all those establishments I frequent. I will definitely be back to try the other items on the menu.
B1 was so damn drunk after he drank the 20 proof soju (usually he only drinks half a bottle of 18 proof soju and brings the bottle home to finish at home), I ended up driving his drunk ass home. This idiot Porsche high beamed me after I cut him (if you don't like it, don't drive like a granny, arschloch) so B1 was pissed the light was shinning into his eyes from the rear view mirror, so he happily flipped the driver two birds and even waved them about. What a nightmare.