This is my favorite wine, which I will buy two at a time from Jones the Grocer, which carries them at an exorbitant S$21 (it is only 3.75ml). That was before I discovered that Mandarin Gallery has a Jones the Grocer too. I usually will buy cheap plonk, or if I know that there is at least a S$10 discount per bottle (and I mean 750ml). I am starting to stock pile a nice selection of cheap plonk at the new apartment, for backup gifts or when I want the wine to accompany a certain dish I am cooking.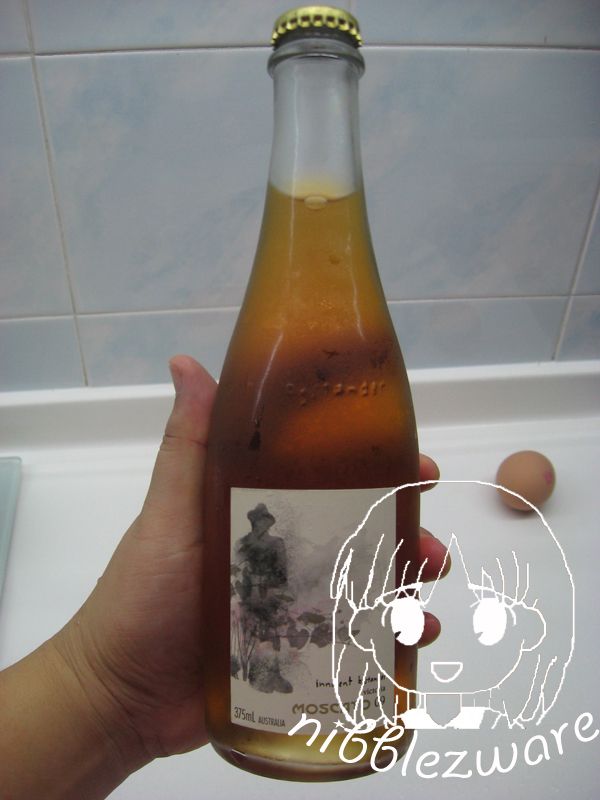 I initially wanted to give this to my colleague who gave me an Anna Sui lippy for Xmas (I am not sure why, because I don't wear makeup unless I want something =D) but I realized that it was oxidized. This wine is supposedly to be a delicate frizzy wine that is pink color. I eyed the bottle.
"Isn't Innocent Bystander supposed to be pink?" I asked B1.
B1 replied, "open up and try." In the end, the taste was a bit distorted. So I gave another bottle with some other stuff to the colleague. To my horror, that bottle was later discovered to be on a steep discount at the supermarket. *silent scream*
Sigh. Ever since this incident, I didn't dare to buy wines from wine-chillers at the supermarkets or wine cellars. I think this wine is supposed to be kept in room temperature or for a long time without drinking. These two bottles happened to be set aside for 1 year (I had yet to discover the other branch of Jones the Grocer).