For once, we had some good (sort of a double-edged sword type, but we will take whatever we can get) news today, so Bär und I went out to celebrate, even though we had the usual pile of caca boudin to sort out back in the office. Now as I am typing this out, I think back to all the other celebrations we had, and realize there are only Bär und I now.
I was still talking to my *censored*, when Bär came over to remind me on the time. The two of us rushed off to our original luncheon spot, only to discover it was closed (my potty mouth had predicted it). We didn't make reservations, thinking they were unnecessary, and didn't notice that the place was closed on Dienstag.
So still raining, we ran across the roads after a taxi, and went off to my backup spot, Paul @ Ngee Ann City.
The attached boulangerie und patisserie
Paul was recently opened next to my favorite bookshop, Kinokuniya (where I bought K's xmas present), and has an attached boulangerie und patisserie. The restaurant was already filling up rapidly with customers (mostly ang mos and rich tai-tais who fervently but gingerly air-kissed each other on the cheeks). After a short wait, we were seated before a mock fireplace, with a droll fireplace set.
The real droll fireplace maintenance tools for a fake fireplace
The menu
Aware of the other customers waiting around us, we rapidly made our decisions for lunch. I chose the steak set/ Pièce de boeuf (S$24.90) and Bär, a mushroom open sandwich(S$16.90), because he wanted to try the bread, he said later... I was like eh... we can always buy the bread separately from the boulangerie. Instead of starters or soups, we chose the tea set, which comes with tea of our choice, macaroons, a chocolate cake and creme brulee.
To give you an indication of the pricing...
While we were waiting, we did a lot of people watching, mostly Bär, as I was facing the mock fireplace. Like I said earlier, it was filled with atas tai-tais *envious*.
Full restaurant at lunchtime. Quite a feat given the number of restaurants in Ngee Ann City
I observed quietly that the older Caucasian couple next to us acknowledged the other table on the other side, whenever it was taken, coincidentally twice by other Caucasians. They studiously ignored us, while totally eavesdropping on our conversation. The wife caught me evil-eyeing her so she chatted with her husband to cover that she wasn't listening to me talking about Caca Boudin (new bad word I learnt). Her husband suddenly shocked Bär und I by suddenly reaching over for the salt and pepper shakers. After noticing our shock, he hastily excused himself. But I am not exactly impressed by their behavior.
Luckily the service was professional, polite and bearable though they look understandably harassed, considering how relatively new the restaurant is and it being so busy on a Dienstag. The waitress did booboo on our desserts, I asked for the tea in the tea set to be served earlier, and a waiter brought the entire tea set instead on a huge plate *faint* when we hadn't even had our main courses yet. They immediately rectified and brought out the tea alone, later serving the desserts on smaller plates. Their outfits were quite droll too, initially Bär und I were wondering why was the chef escorting us to the seats...because he was wearing a funny chef-like cap.
That aside, Bär und I had a fun time where I regaled him with tales of my horrible German and
being talked to on the bus by L
. I am still thinking whether to sms or call her. It will be fun to finally meet someone who is Asian and speaks some German. But it could become a case of the phonetically bad leading the phonetically bad =D.
Piece de Beouf (piece of steak?? WTF so literal)
Our mains came. My steak was supposed to be medium. It was leaning towards well-done but it's ok, still tasted pretty tender. I realized that I can
cook almost restaurant style
*shameless*. I liked the sauce, though it was a tad salty.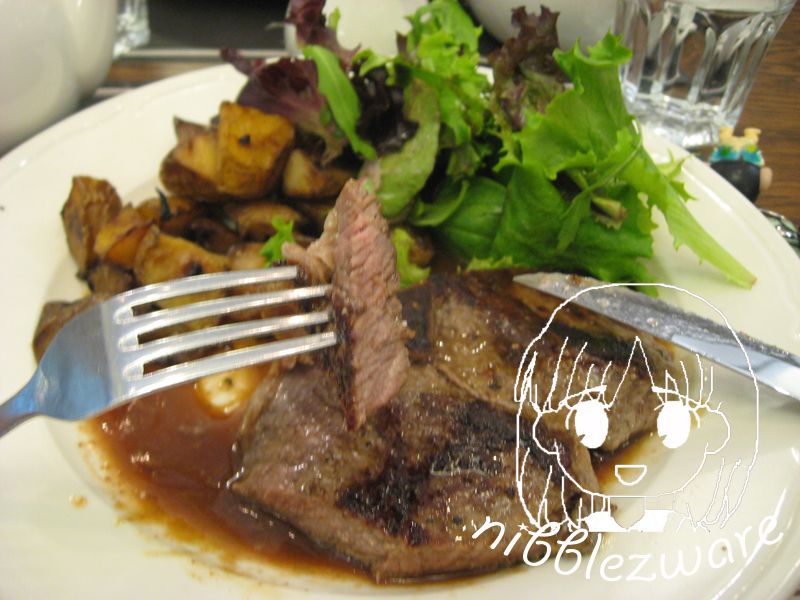 Moo! They do need to QC their salad, I ate a suspiciously caterpillared-shitted-on-it-looking leaf
I have nothing to say about Bär's open sandwich, but he managed to stay full and only felt hunger in the late evening (same time as me, but I am a fat cow). I asked him to help take the photo of his dish for me, and gave him directions on the angle he should take the photo from. Amazingly his second photo was the nicest of all the photos taken today.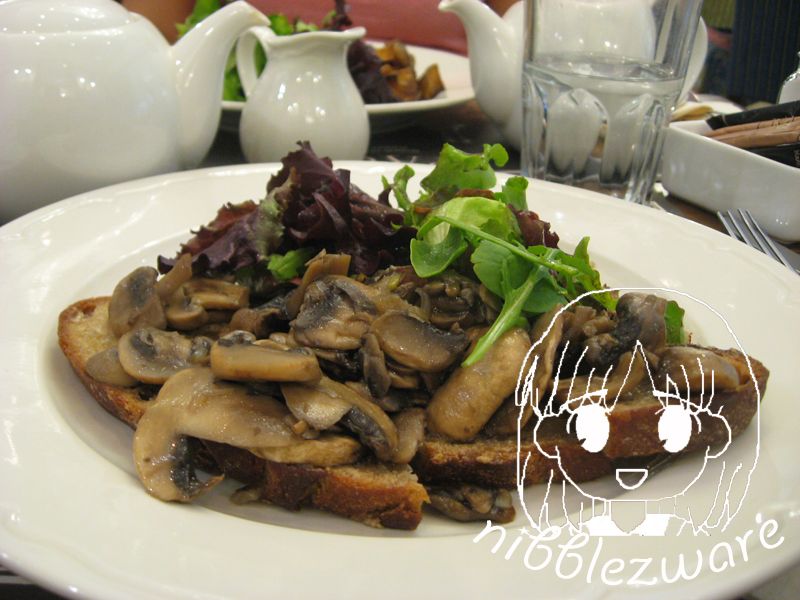 The best photo of today
Good Job Bär! I told him later in the day, that it seemed that I have a lot of posts that I have forgotten to post (noticed that they tended to be those with lots of photos, which need to be watermarked). But I am rather tired nowadays so I will likely post them when I am feeling better.
Macaroons, creme brulee and a French brownie
So the dessert came. It was really worth it, all that + the tea (mine was Russian, and Bär's, Englisch Breakfast) for S$11.90. I liked the creme brulee the most, since I like pudding alot. Yummy. Bär hated it, and didn't finish it. He liked the macaroons, while I was a bit indifferent. We both thought the green one was green tea-flavored but it turned out to be pandan-flavored.
"It tastes like... mooncake!" Bär agreed with me.
Creme brulee. Wished they burnt more of the sugar top =D I like it crunchy on top
The chocolate cake seriously... looked like one of my baking disasters. It looked like the cake I baked for B1's birthday, you know the one which was supposed to be flourless? It was disgustingly thick in the middle and crusty at the sides. If it was supposed to be a French Brownie, it was an epic fail of a Brownie, French or not.
One thing good about the staff, I asked them to top up my teapot with hot water, and after looking harassed again, the waitress did it. I made sure to thank her properly. The desserts were really sweet, until I found myself unconsciously adding sugar like mad to my tea... almost emptying the sugar bowl because the tea remained determinedly tasteless.
Russian tea.... masquerading as English Breakfast. Tasted more English than Russian
Hopefully this is the first of a series of celebrations. We seriously need them...
Paul was quite nice. It was cheaper than the usual places Bär und I would usually patronize, when we are hell-bent to destroy our wallets. I especially shouldn't behave like this month, since I practically changed my entire month salary into another currency *heart pain*.
Paul
391A Orchard Road, #03-16/16A/17 Ngee Ann City Tower A, Singapore