Check out my contribution at the bottom =D
Actually I saw this exhibition twice when I was rushing past ION. However because I didn't have my camera with me, and was short on time, I wasn't able to adequately admire the various pieces of art they had on display.
I have to say our National Arts Council puts in quite a bit of effort in planning the showcases, especially for souvenirs (such a winner job considering how souvenir-hungry people are). Say for example, last year's
Singapore Biennale 2011
.
Back to the story, I swore to myself that I would come down and admire the art properly. So I dragged the long-suffering B1 away from his BF3 (one day I am going to kick his PS3) and down to ION, where we admired some of the work and fought over one (my fault he doesn't read my blog?). He finally settled down with his iPhone while I decided to stop lurking around the booth where people were drawing on their own souvenir tote bags (sponsored by the nearby MUJI).
Check out the hot mama. Those 2 kids opposite her were hers!!!






I was hesitating because (1) I was wearing a short dress, and I was wont to sexpose myself even though I wear shorts (2) I noticed there were not many art supplies, and those that were available were mostly dried, due to selfish jackasses who didn't cap the pens back properly. (3) it was kind of embarrassing =D (4) I didn't know what to draw.
The Raw Canvas


So my desire to play won out so I sat down and hurriedly sketched out a small template on a piece of paper. I was planning to draw a little pink haired girl sitting on a toadstool. Initially at the corner of the bag, but I thought it was a bit lame, may as well go for it and draw big big! However when I drew it onto the bag, I overestimated the little girl's head.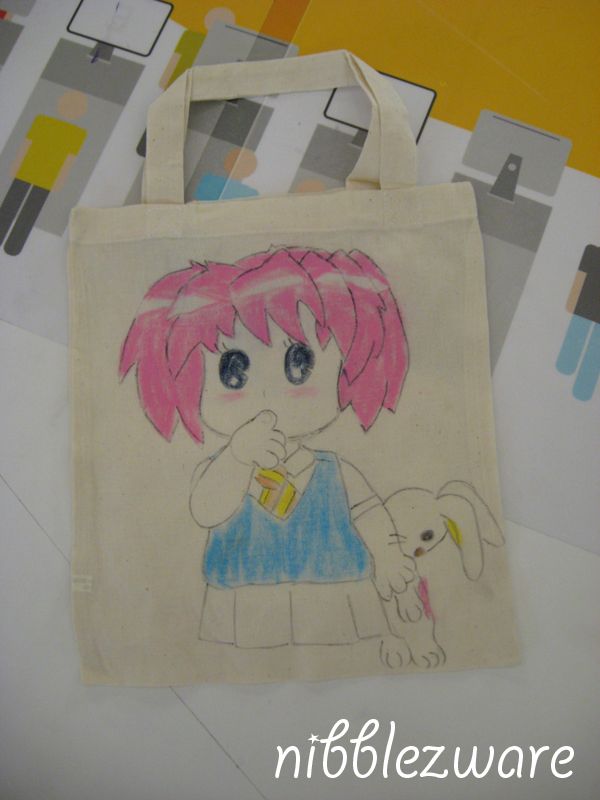 Which is why she was legless =D. OOpz. Now you know I have a school uniform fetish. Haha.