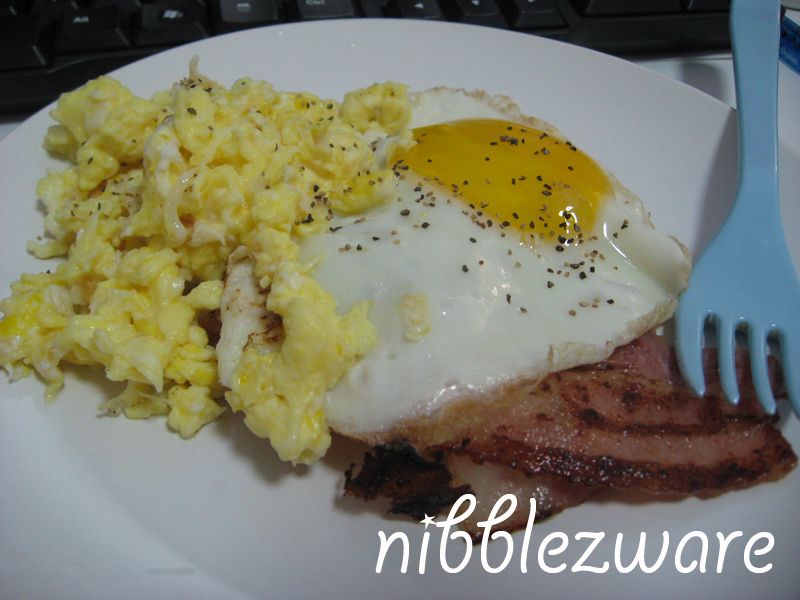 B1's first time cooking breakfast in the new apartment. This day is a special day indeed~!
Last night I tried to stay up so that I could play with Herrmannmeier, who hadn't played CoH for several months. This means sleep deficit of course, because I had promised to play with 12ax7 the next morning... zzz.
Anyway this morning was a nightmare! I woke up my usual time, but because USA clocks moved forward by one hour, the time difference became 12 hours and I was late! So I said I would join the next game which meant that I had only 1.5 hours to do my washing, water my plants, run out to my house to pick up some more clothes, and buy groceries for the weekend.
So I dumped the clothes in to soak, and ran out the door, drove like a maniac, parked at my old apartment (I wanted to save fuel even though B1 told me not to, because driving to the market requires longer routes. Sounds weird right? Walking is faster?) before running across the bridge to the market...
I have forgotten, when you go to market early, you will encounter all the housewives and aunties buying stuff. I had to wait patiently to pay for my vegetables. Btw I bought my first chicken! I don't like market smells and I hate touching raw, fresh meat. So I have been feeding B1 frozen meat (which has already been cleaned). But I wanted to make samgyetang (korean ginseng chicken) *smacks head! I forgot the ginseng* so I sucked it up and marched to the odoriferous wet market section. Luckily it was early so they hadn't washed down the place, so it smelled somewhat bearable...
For about S$40,
I bought S$9.40 of green seedless grapes (my fav), oranges (for B1), and bananas (for us? we both hate them)
S$20.65 worth of black beans, sweet potato leaves, kang kong, tomatoes, potato chips (S$7.30), potatoes, garlic, napa cabbage, spring onions, wintermelon, eggplant, carrots, mung beans (for chinese dessert, Kari, I show you), and sprouts.
S$2 eggs (I have been craving for them)
S$9 of chicken, 1 whole chicken (S$5), two deboned chicken thighs (S$3.60), chicken bones (?). I don't know how the whole thing became S$9 instead, but the auntie must have seen that I am a wet market virgin and took pity on me.
When I was at the fruit stall, I asked the uncle for the time, he told me it was 10.30am.
I was like fuck!!!! Needless to say, I ran out of steam running back. I panted and heaved as I carried my stuff up the bridge, through the apartment blocks and back to the car. Rushed home, and grabbed my clothes, and hard disk and ran back down again after waking B1 up and asked him to meet the car. In between it all, I emailed 12ax7 from my old computer, I wasn't going to make it and to go ahead. Now re-reading my email, it totally does not make sense, as he was telling me.
"I just reached the other house after buying groceries. But the game is on at the other house so I cannot play here. if i call [B1] to switch off the game he will yell at me to come back. :D I think you guys just start an american stone first? Cos i think it is very late in usa now and you have class tomorrow.

I think I need about another 15min."
Was I trying to tell him to start a game with me? Without me? Or play USA stonewall (when I wanted to play German)? My initial intention was to tell him to forget it, go ahead and play without me. But I felt that he being a gentleman would still wait. So I still tried to race back, and therefore the super incoherent email. [To clarify on the yelling, when I was robbing B1 of his car keys, he reminded me that he was going out for his colleague's house warming so not to be late coming back.]
I was absolutely knackered when I got back to the computer. I begged B1 to make breakfast, which he did, after claiming he did not recognize bacon, or how to fry an egg or tell when the bacon is cooked. He wanted to make half-boiled eggs, which I cannot stomach. I negotiated in vain for fried tomatoes. =D
I was very pleasantly surprised yet puzzled at the plate. Why were there scrambled and sunny-side up? He said, I did not know what you wanted, so I made both.